For Sale – Viscoelastic Cervical Disc assets from Alethea Spine
The TRUE Motion Solution
---
VALUE PROPOSITION (viscoelastic cervical disc)
Alethea Spine's Cervical GoldilocksTM have found the "just right" in the "Goldilocks Spine Zone™."  Interbody devices (IBDs) with titanium and PEEK have failed with a 34.5% and a 26.1% subsidence, respectively.  The Goldilocks Spine Zone incorporates a thermoplastic polyurethane (TPU) insert molding devices that have superior results.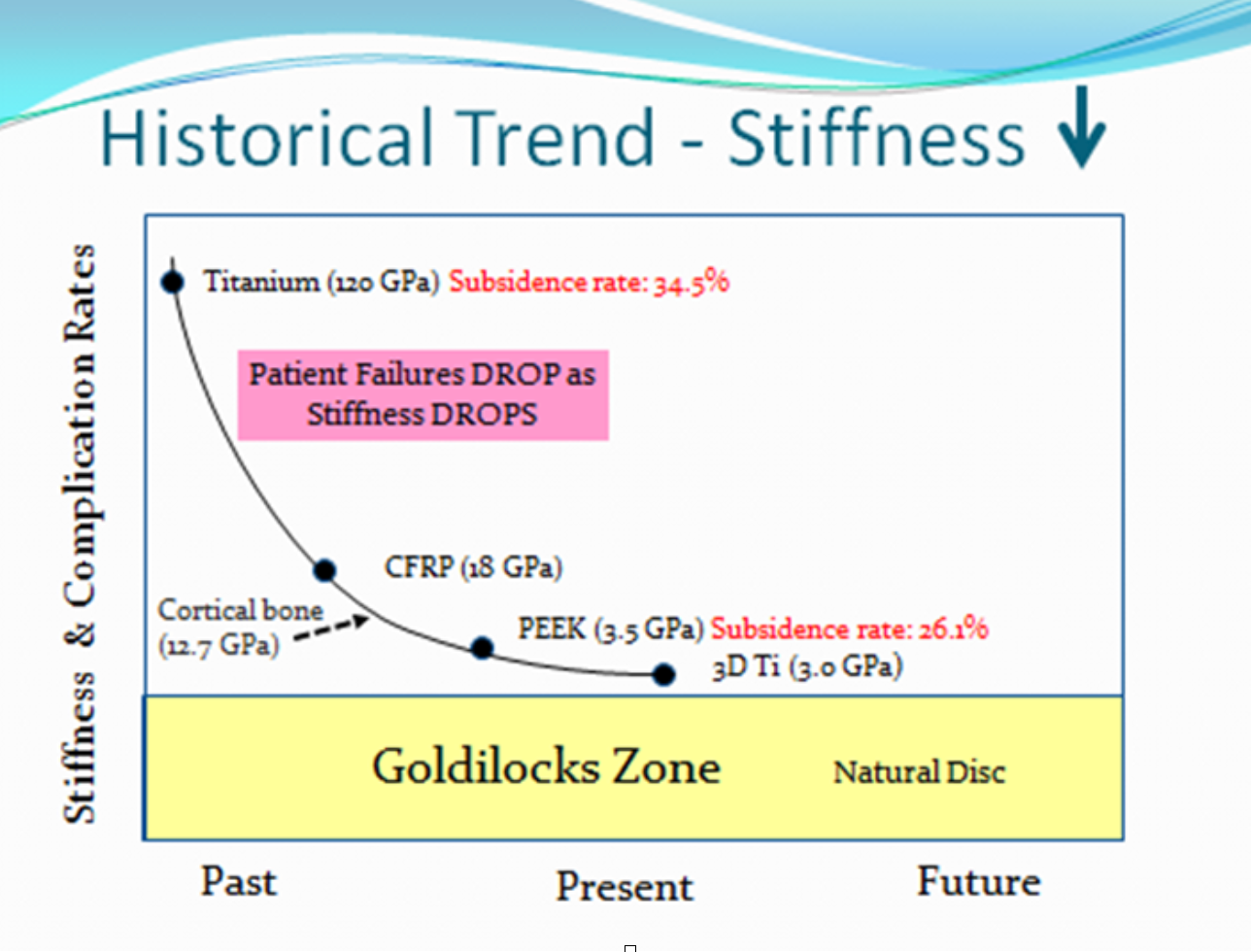 MANAGEMENT/SURGEON TEAM
The Management/Surgeon Team has extensive experience in developing and commercializing spinal implants.
Chuck Birchall, Jr. (CEO) – MBA; 20+ years: AcroMed, AxioMed Spine – Co-Founder; 10 patents
Lee Strnad (COO) – BSME; 20+ years: AcroMed, EBI, OrthoHelix, & Intrepid Ortho – Co-Founder; over 50 patents
Ed Benzel, MD – Cleveland Clinic: Emeritus Chairman, Department of Neurosurgery & Professor, Neurological Surgery;  surgeon developer for AxioMed Freedom Discs®

ALETHEA's GOLDILOCKS SOLUTIONS/PRODUCT DESCRIPTION/REGULATORY PATHS, Alethea will have a family of Cervical IBDs that vary in stiffness.  A provisional patent has been filed on a PCT filing of its unique design(s).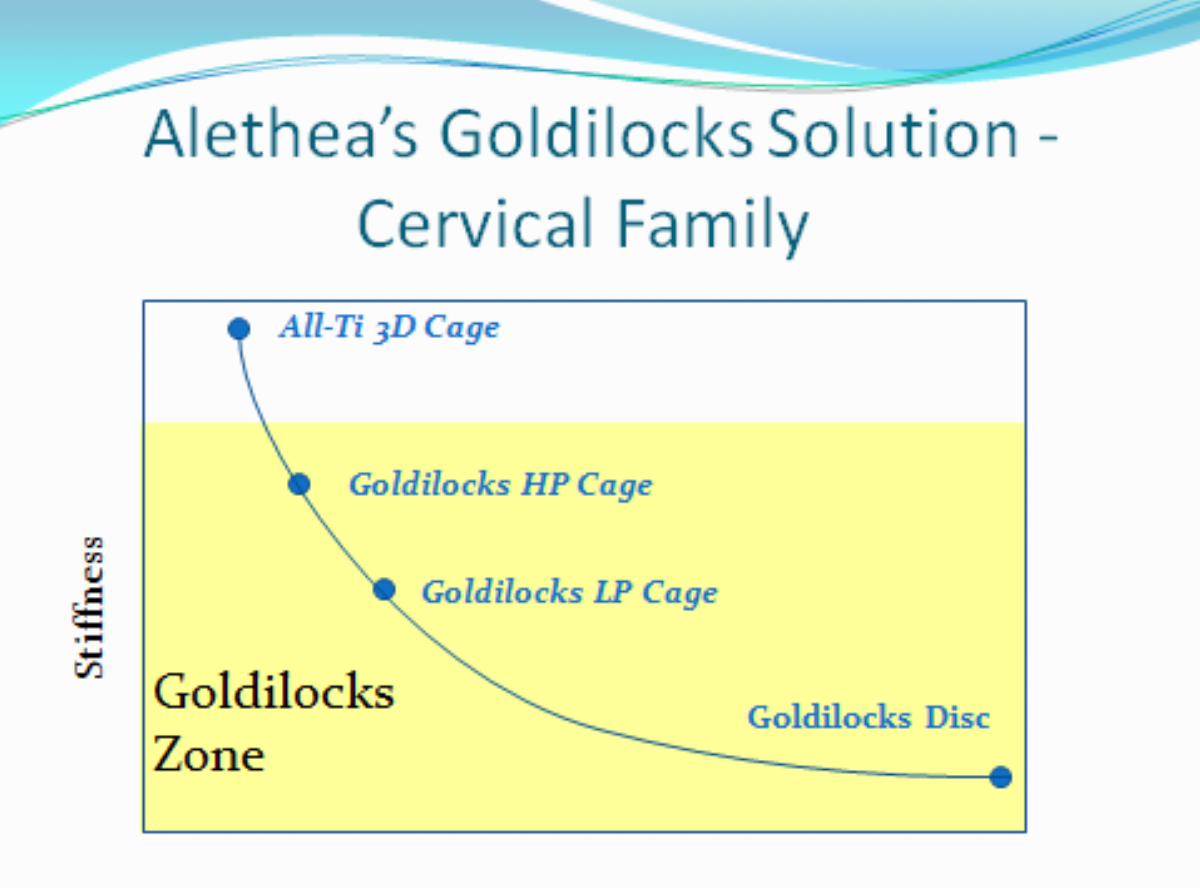 All Ti 3D™ Cage
Description – 3D printed cages (DMLS) are similar 3D printed cages in the market.
Regulatory path – Class II, 510(k)
Why – A very low risk, early entry IBDs are used for comparisons to its Goldilocks All Ti 3D Cages.
Goldilocks HP™ Cage
Description – High TPU core w/ DMLS endplates are for Heavy Patients (i.e. 250 lb. former pro football player). 
Regulatory path – Class II, 510(k)
Why – The FDA may ask for additional data prior to clearance, but it can be sold OUS.   
Goldilocks LP™ Cage
Description – Slightly higher TPU w/ DMLS endplates are for Light Patients (i.e. 85 lb. former gymnast).
Regulatory path – Class II, 510(k)*
Why – The FDA may ask for additional data prior to clearance, but it can be sold internationally.

Goldilocks C-Disc ™
Description – Low TPU w/ DMLS endplates are for motion restorations/preservations.
Regulatory path – Class III
Why – OUS surgeons/patients will have an early access to a cervical disc. The Goldilocks C-Discs will OUS sales (30K+ implants) by securing a $34M+ of funding to support U.S. clinical cervical disc trials for their discs. 
Descriptions
DMLS/DMLM – Direct metal laser sintering/melting
HP –Heavy patients
IBD/IBD –Intebody devices/fusion devices
LP- Light patients
OUS- Outside the United States
GOLDILOCKS – COMPONENTS & DESIGN
With a proprietary design, the endplates and polymer core will be combined using an insert molding process.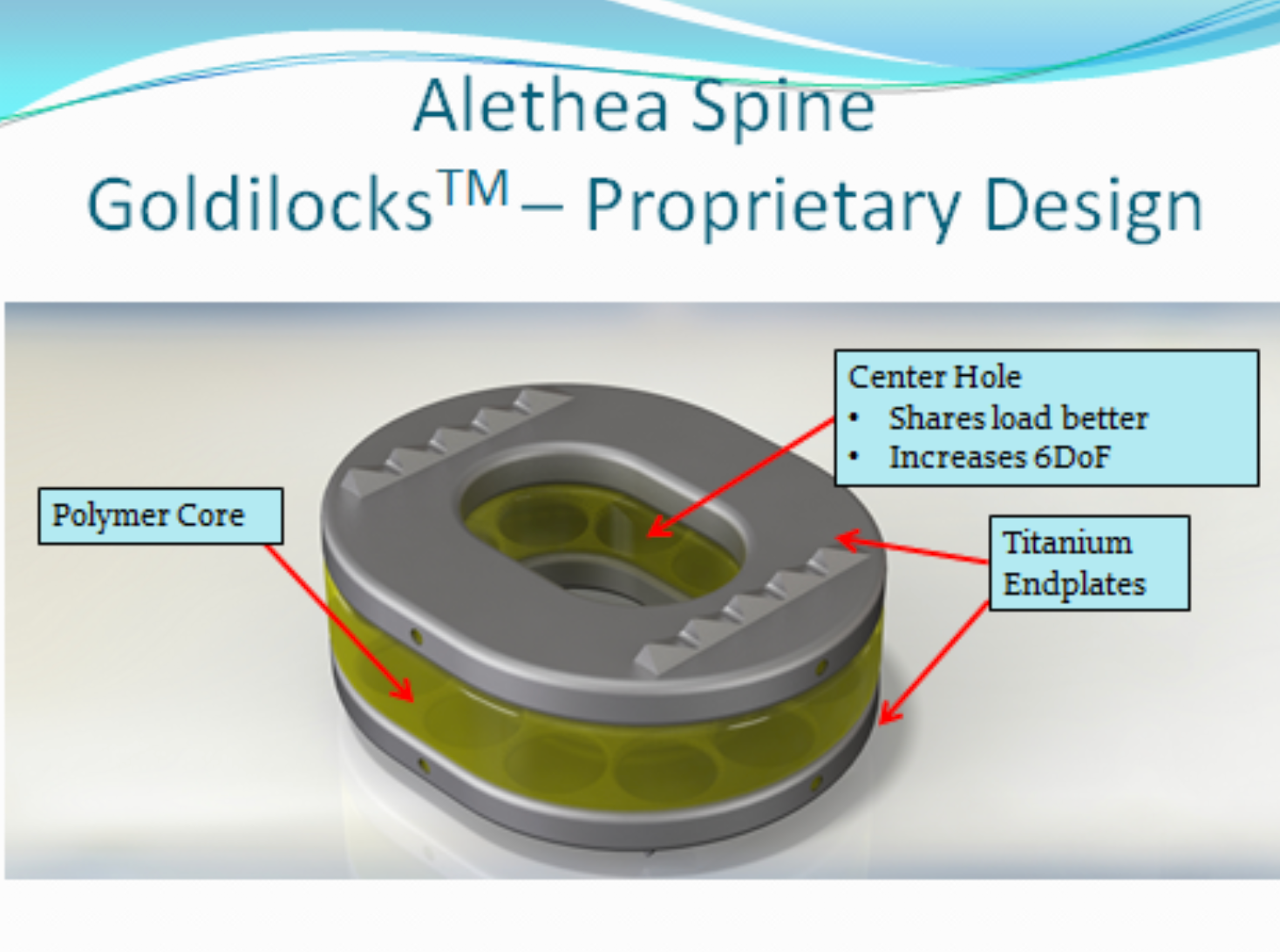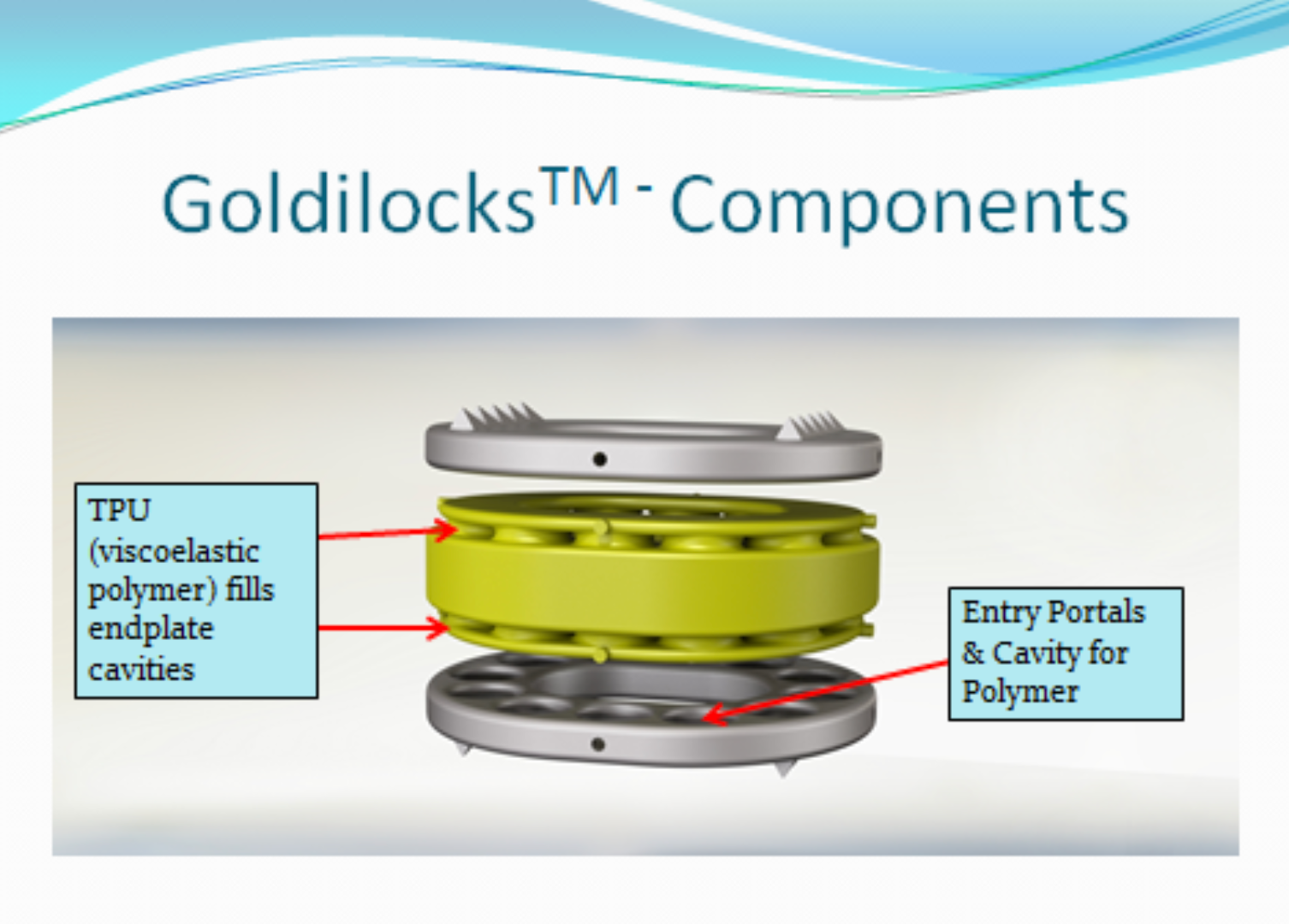 COMPETITIVE ADVANTAGES
Alethea Spine has the following competitive advantages (barriers to entry):
Viscoelastic implant experience & knowledge – The first viscoelastic disc (AcroFlex – titanium endplates with a Bion/silicone core) was invented by Dr. Arthur Steffee (founder of AcroMed) in the late 1980s.

 

Several development efforts failed at AcroMed in the 1990s (in-vivo bond failures). It was abandoned by its acquirer, JNJ, after purchasing a lumbar disc (Charité) for $350M.

 

Former AcroMed employees, including Birchall, founded AxioMed in 2001 using CarboSil, which addressed the AcroFlex failures.

 

After securing an exclusive license for CarboSil, AxioMed received $3.25M from five venture capital firms.

 

The board replaced Birchall in 2003 and sold his shares in2004.

 

Its EU Freedom Cervical Discs were limited to only a few surgeons in three countries.

 

To summarize, AxioMed was a clinical success but a financial/quality failure.

 

By 2014, AxioMed had spent $70M, but the money ran out and the company was sold in an asset sale. Building on the past experiences at AcroMed and AxioMed, Alethea has both the knowledge and experience with viscoelastic devices that does not exist at any other spine companies –

 

DMLS + insert molding.
Lowest stiffness = better clinical outcomes – Goldilocks HP & LP will introduce a major market shift in IBDs by creating one with a stiffness similar to cancellous bone (7x less stiff than the competition).

 

It will be either difficult or impossible for companies to copy Alethea's IBDs because of a lack of knowledge/experience with TPUs and its IP. This is A MONUMENTAL GAMECHANGER in the years to come.
Unique design/IP protection – Alethea has filed a provisional patent (PCT), which focuses mostly on the unique design of its endplates (cavity).

 

The endplate design provides a mechanical bond between the endplate and its TPU core and addresses the failures with the AcroFlex disc and the manufacturing issues (cost, quality) of the existing Freedom Discs. 
Goldilocks family approach – Alethea only offers Goldilocks' stiffnesses (All Ti 3D, Goldilocks HP & LP) that are superior competitive advantages.
Lower manufacturing cost – AxioMed's Freedom Cervical Disc had COGS of $1000 with 7 vendors and a delayed lead time of 6 months.

 

Alethea's Goldilocks Cages/Discs will have COGS of $200 with just 3 vendors and a lead time of <2 months.

 

Alethea's GPMs for OUS and US are estimated at 84% and 92%, respectively.
Low/controlled burn rate – Outsourcing business model
Clearly defined exit strategy – Alethea wants to partner or be acquired by a major spine company as soon as possible to maximize its ROI for its investors.
BUSINESS MODEL
To create both a low burn rate and an easy acquisition for a major spinal implant company in 3 years or less, Alethea is outsourcing from its operations. 
OPERATIONS/MANUFACTURING/DISTRIBUTION 
Development/Regulatory/Operations – Intrepid Orthopedics.  Lee Strnad is the sole owner of Intrepid.  Presently, Intrepid has done all of the engineering drawings, SLAs, and testing for Alethea Spine.  We may hire an outside regulatory/testing company like Empirical Testing (previously completed testing for AxioMed) or the Orthopedic Research Laboratories.
Polymer – Lubrizol or DSM.  Lubrizol has provided 20 pounds of free material (Carbothane TPU) for our prototypes.  DSM has a master material file with the FDA on Bionate TPUs. 
Endplates – Several companies offer DMLS (direct metal laser sintering/3D printing). 
Injection Molding/Packaging/Sterilization – Several companies have experienced with insert molding medical devices.  They are FDA registered, ISO 13485 manufacturing facilities.
Distribution – Spine Company (TBD).  Alethea will either be acquired before commercialization or partner with a spine company for distribution with the option of acquiring Alethea at a later date.   Alethea's Management Team has several strong relationships with major spine companies (MDT, JNJ, etc.).
SPINE MARKET
The Spine Market is estimated to reach $15B by 2020 with MDT & JNJ having a combined market share of 62% and the cervical IBD market segment at $3B (Millennium Research Group).  Presently, most cervical IBDs are made of PEEK, but they are quickly being replaced by PEEK/titanium endplate and 3D printed IBDs.  These "new" devices only address the fusion issue associated with PEEK only devices and do nothing for subsidence or loss of correction.   Recently, the rate of acquisitions has increased.  One example is ZBH (Zimmer Biomet) acquired LDRH for $1B (Cervical disc & cages – $100M sales).  While Alethea Spine is focused on IBD applications, its technology could lead to developing both cervical and lumbar discs.  The ASP for a cervical IBD is $2500 (US) and $1200 (OUS).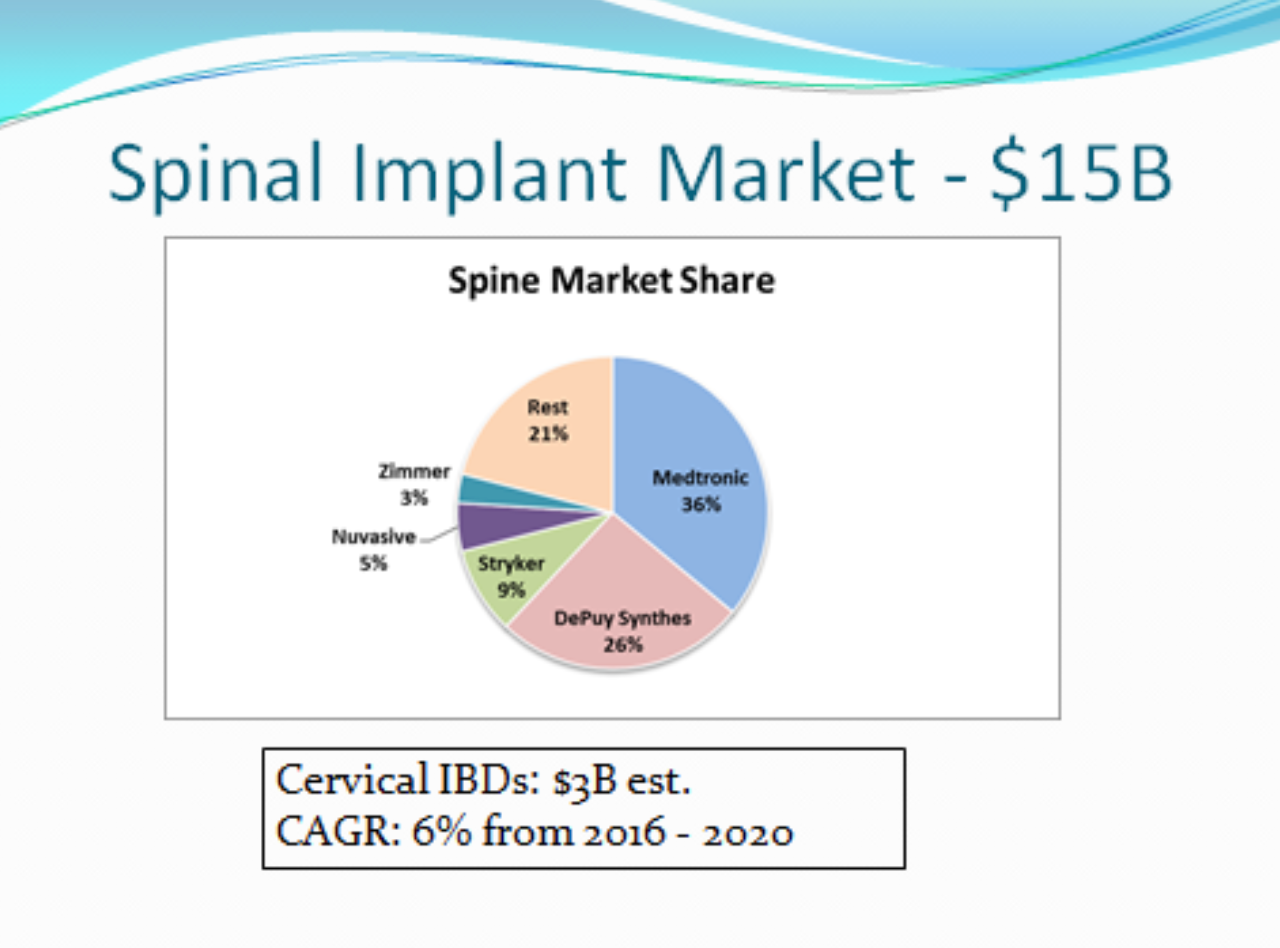 FUNDING STRATEGIES
Strategy I (Seed to Acquisition) – Angel/angel investor group invests up to $25K at a pre-valuation of $1M (20%). 
Strategy II (Seed to Series A) – Angel/angel investor group invests $250K -$500Kat a pre-valuation of $1M+ (20%). 
Strategy III (Manufacturer Buys Alethea) – Alethea is sold/invests with the manufacturer.  The goal would quickly an acquisition or partnership with a spine company at a pre-valuation of $5M+.  The spine company can acquire immediately or fund further development.    
FINANCIALS
Below is the model for Strategy #1 – Seed to Spine Company Partnership/Acquisition. 
Prototype + testing (Stage I) – $25K+ (Go/No Go). Complete the design & testing as an ideal choice.

Design+ Development (Stage II) – $250K to $500K.

 

Finalize the development process.
Commercialization-(Stage III) – $5M+.

 

Company acquires Alethea or partnership.
STATUS UPDATE
Surgeon consultant agreement – COMPLETED
Endplates (DMLS) – COMPLETED
Insert Molds – COMPLETED
Alpha Prototypes & Testing – COMPLETED. The preliminary biomechanical testing of the Goldilocks C-Disc successfully completed  the competitive discs.
Beta Prototypes – IN PROCESS
PCT(Patent Cooperation Treaty) – COMPLETED
FUTURE
Alethea believes it has a platform technology that can revolutionize the lumbar IBD and disc markets.    One option is spinning off the lumbar applications into a separate company and limiting Alethea Spine to just the Goldilocks Discs (i.e. XLIF, TLIF).

CONTACT INFORMATION
Web site – www.aletheaspine.com
Chuck Birchall, Jr. – CEO
Email – cbirchall@oh.rr.com
Cell phone – 440-479-4651
Lee Strnad – CTO
Email – lstrnad@intrepidorthopedics.com
Cell phone – 440-465-4321