Lima and OrthAlign partner up in total knee surgery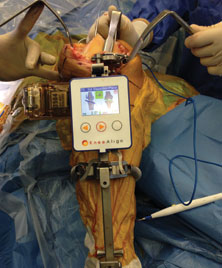 ORTHALIGN, LIMA CORPORATE SIGN DISTRIBUTION AGREEMENT (Orthopedics This Week)
OrthAlign, Inc. has entered into a European distribution agreement with Lima Corporate for KneeAlign, its total knee arthroplasty (TKA) technology.
"As Lima embarked on building a best-in-class platform to provide surgeons with a complete range of solutions in TKA, we were convinced that OrthAlign's precision alignment technology should be included in our offering," said Luigi Ferrari, Lima Corporate's chief executive officer, in the August 6, 2015 news release.
As indicated in the news release, "In a published clinical study by Denis Nam, M.D. (Washington University in St. Louis), significant differences favoring the use of KneeAlign vs. CAS were found with regard to the accuracy of femoral component alignment, with 94.9% of patients in the KneeAlign cohort having an alignment within 2° of neutral vs. 92.5% in the CAS cohort. There was also a significant difference in overall mechanical alignment of the limb, with 92.5% of patients within 3° of neutral mechanical axis in the KneeAlign cohort vs. 86.3% in the CAS cohort."
"We are pleased to partner with Lima in further expanding our award-winning KneeAlign technology to surgeons and patients throughout the European continent," said William E. Maya, OrthAlign's chief executive officer. "There were approximately 540,000 TKAs in Europe during 2014 and this number will likely increase as the population ages, so this is a very important market for us in our international growth strategy. Lima's forward-thinking vision in providing surgeons with a best-in-class platform of technologies resonated with us and we are honored to be a key part of the offering. Ultimately, we hope it helps to raise the standard of care throughout Europe for TKAs".
Luigi Ferrari told OTW, "As technology continues to advance in orthopedics, surgeons are now demanding a complete range of solutions for their TKAs. A Lima-OrthAlign partnership makes sense because surgeons throughout Europe will now have easy access to a world-class knee, combined with the most practical precision alignment tool in the marketplace, all from one single source. OrthAlign technology takes all of the gold standard benefits of computer assisted surgery systems and puts them in a handheld device, without all of the drawbacks that stunted CAS adoption. In confirming our decision to partner with OrthAlign, Lima surveyed a strong sample of European-based surgeons and the feedback received was very positive. We are looking forward to working together with OrthAlign in providing surgeons with best-in-class solutions."
William Maya told OTW "There were approximately 540,000 TKAs in Europe during 2014 and this number will continue to grow. However, as Europe faces increased price constraints, countered with increasing market demands for the latest in technology, products like OrthAlign will play an even more important role in raising the standard of care for TKAs. We hope that every surgeon and patient will be able to experience the enormous benefits of OrthAlign, seeing firsthand why it's already been used, worldwide, in over 35,000 cases."