Smith & Nephew acquires cartilage repair product BST-CarGel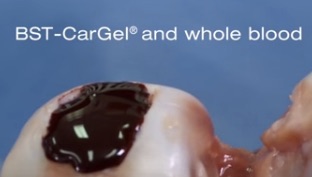 Smith & Nephew acquires first-line cartilage repair product (press release)
https://www.youtube.com/watch?v=2kefbFeToVA
Smith & Nephew plc (NYSE:SNN;LSE:SN), the global medical technology business, announces the acquisition of BST-CarGel®, a first-line cartilage repair product used along with microfracture and other bone marrow stimulation techniques for the initial treatment of most sizes of focal cartilage tears. Through this transaction, an affiliate of Smith & Nephew plc will acquire ownership of all product and intellectual property assets related to BST-CarGel from Piramal Healthcare (Canada) Limited, based in Montreal, Canada, an affiliate of Piramal Enterprises Limited.
Approved for use in a number of countries around the world, including Australia, Canada and most of Europe, BST-CarGel is a biopolymer-based solution that is mixed with a patient's blood and implanted into the joint following a microfracture procedure. BST-CarGel can be delivered arthroscopically and can be used to treat damaged cartilage in synovial joints such as the knee, hip, ankle and shoulder. Once implanted, it acts as a scaffold, adhering to the cartilage surface to stabilize the blood clot while new cartilage is regenerated.
An international, Level 1, randomized clinical trial involving 80 patients with grade III and IV femoral cartilage lesions demonstrated that microfracture with BST-CarGel yielded statistically significant improvements in both quantity and quality of repair tissue when compared to microfracture alone at one and five years post-op1. BST-CarGel also resulted in fewer structural failures after five years – offering added consistency to microfracture cases.2
"BST-CarGel augments our existing joint repair portfolio with a new option that is differentiated with strong clinical evidence and targets an area of significant patient need and surgeon demand," explains Scott Schaffner, Vice President, Sports Medicine for Smith & Nephew. "We are committed to seeking and investing in next-generation technologies to widen access across our global customer base."
Terms of the transaction were not disclosed.
Editor's Note
Microfracture is a surgical option for treating small areas of damaged articular cartilage. During the procedure, the cartilage area is prepared by removing loose or damaged tissue. A surgical tool is then used to create a series of small, microfracture holes to access the bone's vascular layer. When blood cells from the vascular layer travel through these holes to the bone's surface, they can stimulate new cartilage growth. Microfracture surgery is not recommended for patients with widespread cartilage damage such as arthritis.
Contacts
Media
Joe Metzger
Smith & Nephew
+1 (978) 749-1330
Investor/Analyst
Ingeborg Oie
Smith & Nephew
+44 (0)20 7401 7646
About Smith & Nephew
Smith & Nephew is a global medical technology business dedicated to helping healthcare professionals improve people's lives. With leadership positions in Orthopaedic Reconstruction, Advanced Wound Management,Sports Medicine and Trauma & Extremities, Smith & Nephew has around 14,000 employees and a presence in more than 100 countries. Annual sales in 2014 were more than $4.6 billion. Smith & Nephew is a member of the FTSE100 (LSE: SN, NYSE: SNN).
For more information about Smith & Nephew, please visit our corporate website www.smith-nephew.com, follow @SmithNephewplc on Twitter orvisit SmithNephewplc on Facebook.com