Startup in Wyoming has developed an innovative bone drill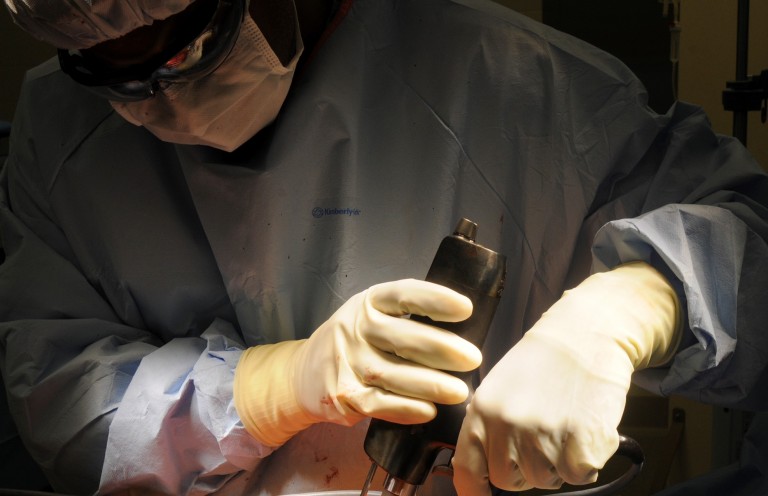 Bone drill developer wins hard science incubator award (Wyoming Business Report)
The Wyoming company behind the invention of a high tech orthopedic drill is the recipient of an international business startup award.
Casper-based McGinley Orthopedics recently was named the 2016 Hard Science Incubator Client of the Year by the International Business Innovation Association (IBIA). Headquartered in the Casper location of the University of Wyoming's Wyoming Technology Business Center, McGinley became that incubator's first client back in 2013.
Dr. Joseph McGinley, a diagnostic radiologist practicing in Casper, invented the IntelliSense orthopedic drill, which earned FDA approval in February 2015. When used in orthopedic procedures, the drill features an auto-stop set up on the far side of a bone a surgeon is drilling into, which — combined with an automatic depth measurement feature — keeps the drill from penetrating all the way through the bone and possibly damaging muscle or other tissue on the other side. The necessary screw size is also provided to the surgeon, while the drill's In-Sight surgical lighting system illuminates the entire surgical field during a procedure.
The Casper Area Economic Development Alliance led the effort to build an addition onto and remodel the former Amoco Production administrative building, which now houses the Casper WTBC. The university oversees the site as part of its system of incubators, which also includes ones in Laramie and Sheridan, and its business development program focuses on nurturing early-stage, technology-based companies, with an emphasis on high-growth firms.
McGinley Orthopedics has 11 employees working at the incubator, including a full engineering staff. A sister company, McGinley Manufacturing, is a custom machine and fabrication shop that operates three shifts each work day at its plant in Glenrock, where 21 machinists and other technical staff make most of the parts that go into the IntelliSense drill. The device is being used at many hospitals around the country, including Shriner's hospitals, the Stanford University Hospital and the Cleveland Clinic. Closer to home, the Wyoming Medical Center is also using the drill.
The IBIA is the leading organization advancing business incubation and entrepreneurship around the globe. It helps communities enable entrepreneurs who are looking to make their dreams into innovative businesses. Judges in the competition look for companies that have "developed a particularly effective innovation and have accomplished their mission."