Finally, a disc implant that is viewable on MRI!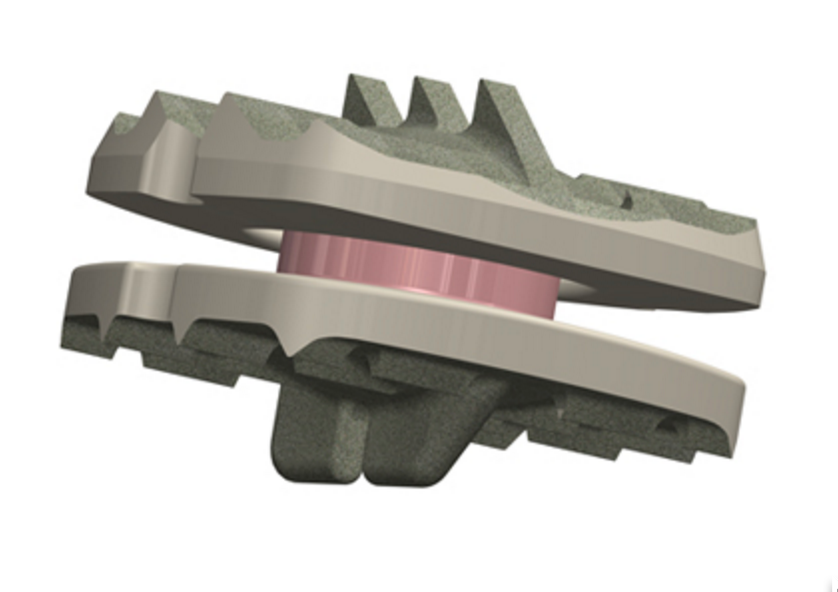 THIS IMPLANT IS VIEWABLE ON MRI!" (Orthopedics This Week)
Simplify Medical, Inc., based in Sunnyvale, California, has announced findings from a new study published January 31, 2017 in BMC Musculoskeletal Disorders. The study, "Utilization of CT scanning associated with complex spine surgery," is the first to estimate the magnitude of computed tomography (CT) imaging for post-operative assessment of spine surgery.
According to the March 8, 2017 news release, "The study found that CT prevalence following complex spine surgery increased more than two-fold from six months to five years, with patients averaging two scans over that period. Each CT scan has been estimated to deliver the equivalent radiation of 400 to 550 chest X-rays to the patient. The retrospective study utilized data drawn from a Humana database covering eight consecutive years from 2007 through 2014 and comprising adjudicated claims for more than 130,000 complex spine procedures."
"One device that may minimize the need for post-surgical CT scans is the Simplify Disc, a cervical artificial disc designed to be clearly viewed on MRI [magnetic resonance imaging] without artifact. Composed of polyetheretherketone (PEEK)-on-ceramic materials, the Simplify Disc is intended to minimize patient exposure to high-dose ionizing radiation from CT and its associated risks. With no metal in its articulating components, the disc is also designed for low levels of wear to optimize long-term durability."
Simplify Medical is now enrolling patients in a non-randomized pivotal clinical trial in the U.S. All patients will receive the Simplify Disc—comparing one-level cervical implantation of the disc between C3 to C7 with cervical fusion surgery from a historical nonconcurrent control group.
Vikas Patel, M.D., chief of Orthopaedic Spine Surgery at The Spine Center, University of Colorado Hospital, was a co-author on the study. He told OTW, "It is surprising how frequently we order CT scans without thinking twice about the ionizing radiation. If this continues, we may see a significant increase in the rates of malignancy."
Richard D Guyer, M.D., chairman of the Texas Back Institute Research Institute, Dallas, Texas, commented to OTW, "The Simplify Disc is made of materials that optimize its viewing and the adjacent spinal canal on MRI without artifact. This property may eliminate or minimize the use of post-operative CT scans and the associated radiation to the patient. The PEEK-on-ceramic design also means patients can avoid metal wear debris from the articulation surfaces."