Orthopedic startup tackles post-surgical skin infections with its newest product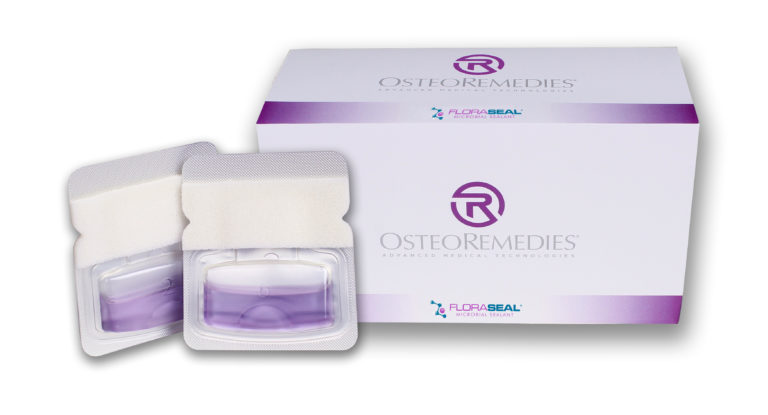 OsteoRemedies® introduces FLORASEAL® in exclusive private label distribution agreement with Adhezion Biomedical LLC (press release)
OsteoRemedies LLC introduces its latest product FLORASEAL Microbial Sealant through an exclusive US distribution agreement with Adhezion Biomedical LLC.
FLORASEAL is a patented film-forming, cyanoacrylate-based microbial sealant intended to reduce the risk of skin flora contamination throughout the surgical procedure.  FLORASEAL acts as a physical barrier to microbial penetration as long as the sealant film remains intact.  Studies have shown that FloraSeal typically stays on the skin for 5-7 days.  The use of an incise drape with FLORASEAL sealant is not necessary.
"FLORASEAL is a perfect fit to our portfolio of infection related products and coincides with our vision to be the premier choice for surgeons by providing simple solutions to complex disorders focused on revision and infection remedies," said Chris Hughes, Founder and CEO of OsteoRemedies.
"With Adhezion's commitment and expertise to cyanoacrylate-based microbial sealant adhesive and infection prevention products, I believe this is the ideal partnership for OsteoRemedies," added Hughes.
About OsteoRemedies LLC
OsteoRemedies is a Memphis, TN company focused on providing simple solutions to complex disorders for revision and infection remedies.  OsteoRemedies currently provides REMEDY® Spacer System, the only pre-molded modular spacer system, and UNITE® Antibiotic Bone Cement for 2 stage revision of infected hip, knee and shoulder total joints.  OsteoRemedies also provides OSTEOBOOST® Resorbable Bead Kit, the only tri-phasic bone void filler in bead kit formulation. To learn more about OsteoRemedies and its products, please visit www.osteoremedies.com

About Adhezion Biomedical LLC
Adhezion Biomedical is a privately held medical device company based in Wyomissing, PA. Adhezion is committed to developing and manufacturing medical cyanoacrylate products used in the treatment of wound closure, wound management, intravenous device securement and infection prevention. To learn more about Adhezion and its products, please visit www.adhezion.com

Contact
Eric Stookey
Chief Operating Officer
800-678-3695
901.453.3141
info@osteoremedies.com
Direct link:  https://www.prnewschannel.com/2017/07/26/osteoremedies-introduces-floraseal-in-exclusive-private-label-distribution-agreement-with-adhezion-biomedical-llc/
SOURCE:  OsteoRemedies LLC
This press release is distributed by PR NewsChannel. Your News. Everywhere.