New technology to treat Facet Joint Syndrome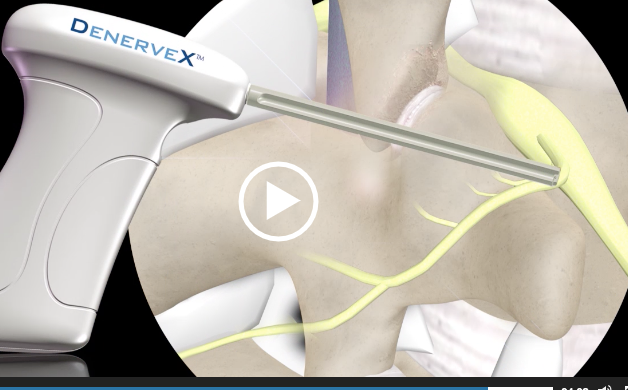 website – http://medovex.com/
SHAVING PROCESS TREATS FACET JOINT SYNDROME (Orthopedics This Week)
The first human cases of facet joint syndrome (FJS) to be treated with Medovex Corporation's DenerveX System took place in Great Britain.
The DenerveX System, which has received CE Mark approval and clearance for commercialization in the European countries, is a new device designed to provide enduring relief of facet joint syndrome pain.
Facet joint syndrome is also known as spinal osteoarthritis, spinal arthritis, or facet joint osteoarthritis. It is a significant health and economic problem in the United States and other countries in the EU affecting millions each year. Current treatment options are temporary and there is no proven long-lasting option for FJS.
Patrick Kullmann, Medovex president and COO., said, "With the DenerveX™ System, we can offer surgeons and pain management specialists the ability to attain precise treatment of the Facet Joint pain. The DenerveX treatment uses 'Rotacapsulation™,' a combination of high heat and rotational capsular tissue shaving, in a minimally invasive posterior procedure for the treatment of Facet Joint Syndrome. The DenerveX System offers an alternative to existing treatments that only provide temporary relief."
Medovex officials explain that the DenerveX System is a highly differentiated technology. It denervates and removes capsular tissue from the Facet Joint in one single procedure. Treatment results from the combined effect of a deburring or polishing action and ablation treatment on the facet joint. Using this new technique, the slowly rotating burr removes the targeted facet joint synovial membrane and joint surface while the heat destroys tissue and denudes any residual nervous and synovial membrane overlying the joint.
Jarrett Gorlin, Medovex CEO said, "Our first human use cases for the DenerveX System took place in Manchester, England, with very encouraging initial procedural success. We anticipate performing up to as many as 30 plus additional procedures by the end of August."
The DenerveX device is Medovex's first pipeline product. It is intended to provide long lasting relief from pain associated with facet joint syndrome at significantly less cost than currently available options. The device has not yet been approved by the FDA.