IlluminOss wins "de novo" clearance for bone stabilization system with help from MCRA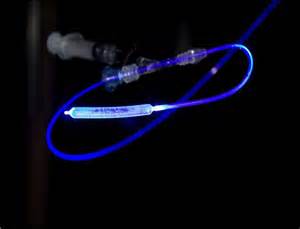 IlluminOss Medical wins de novo nod from FDA for bone stabilization system (MassDevice)
MCRA Assists IlluminOss Medical with Successful De Novo Decision: 1st Orthopedic De Novo Granted by the FDA (press release)
The FDA last month granted de novo clearance to the photodynamic bone stabilization system developed by IlluminOss Medical.
The IlluminOss device uses a light-curable polymer, delivered in an expandable balloon catheter, to stabilize bone fractures. In a Dec. 19 letter to the East Providence, R.I.-based company, the FDA granted de novo clearance for an indication for "skeletally mature patients in the treatment of impending and actual pathological fractures of the humerus, radius and ulna from metastatic bone disease."
The federal safety watchdog said it also concluded that the IlluminOss device is Class II, under the generic name in vivo cured intramedullary fixation rod. IlluminOss said it plans to have the device on the market during the second half of this year.
"The FDA marketing clearance marks a significant milestone for IlluminOss Medical, allowing us to bring our products to the U.S. market," CTO Robert Rabiner said in prepared remarks. "The IlluminOss System was developed with an aim to provide improved patient experiences and outcomes when treating pathologic fractures. There is a critical need to make less invasive orthopedic fracture repair options available to an aging and underserved market segment."
"The IlluminOss system has significantly changed the way we are able to approach the treatment of certain impending and actual pathological fractures resulting from metastatic bone disease," added Dr. Richard McGough of the University of Pittsburgh Medical Center. "We were able to offer patients a quick, reliable surgical option that minimized pain and hospitalization. We were also able to consolidate their treatments; in some cases, we moved from two-day admissions to outpatient surgery, and we were ultimately able to complete radiation much more quickly."
"I am delighted that we now have an improved option to help patients with metastatic bone disease of the humerus," Dr. John Healey, of New York City's Memorial Sloan Kettering Cancer Center, said in a press release. "Since this device doesn't violate the rotator cuff and can be inserted with reduced operative time and blood loss, it relieves pain and restores function more effectively than alternative treatments, in my experience. Furthermore, this new technology is versatile, and I anticipate that new applications will follow."