Can an Elastic Plate result in a better Fusion?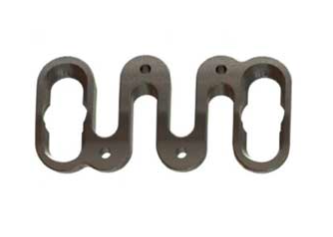 CAN AN ELASTICALLY DEFORMABLE PLATE DELIVER BETTER FUSION? (Orthopedics This Week)
The load-sharing that occurs in the interbody space during an anterior cervical discectomy and fusion (ACDF) procedure can make a substantial difference in surgical outcomes.
Researchers from Rensselaer Polytechnic Institute, the Veterinary Specialties Referral Center in Pattersonville, New York, the corporate sponsor of the study, ReVivo Medical reported on the results of a study to evaluate the bone forming capabilities an elastically deformable spinal plate as compared with a translationally dynamic plate.
Their work, "Load-sharing through elastic micro-motion accelerates bone formation and interbody fusion," was published in the July 2018 edition of The Spine Journal.
The research team used a goat model (14 animals) for ACDF. The goats, who received either a translationally dynamic or elastically deformable plate, were followed for 18 weeks.
"Anterior cervical plates are used in over 400,000 surgical procedures each year," says co-author Darryl DiRisio, M.D., professor of neurosurgery and A. John Popp Chair, Spinal Surgery at Albany Medical Center in New York. "The primary measure of success in these operations is the rapid achievement of bone fusion which thereby stabilizes the spine."
The authors wrote, "Animals treated with the elastically deformable plate demonstrated statistically significantly superior early bone formation relative to the translationally dynamic plate."
"Bone formation and patient healing can be accelerated if spinal implants provide an optimal amount of micro-motion. This is part of the uniqueness of ReVivo's deformable plate" explains Eric Ledet, Ph.D., chief science officer. "Our study showed greater than 46% improvement in bone growth than the commonly used state of the art translationally dynamic plates and achieved a superior rate and quality of fusion. We are very proud that we have been able to apply the technical theory of bone biomechanics to an important real-world application."
President and CEO of ReVivo Medical, Gary Mittleman told OTW, "Our underlying elastic micro-motion concept ubiquitously improves bone formation and fusion at any desired location in the body thereby providing a vast possibility of applications."
"Our aim is product commercialization. We recently submitted an application for FDA clearance of our anterior cervical plate and expect to follow it up with an application for an interbody cervical cage shortly."