Enhatch is enabling the future of orthopedics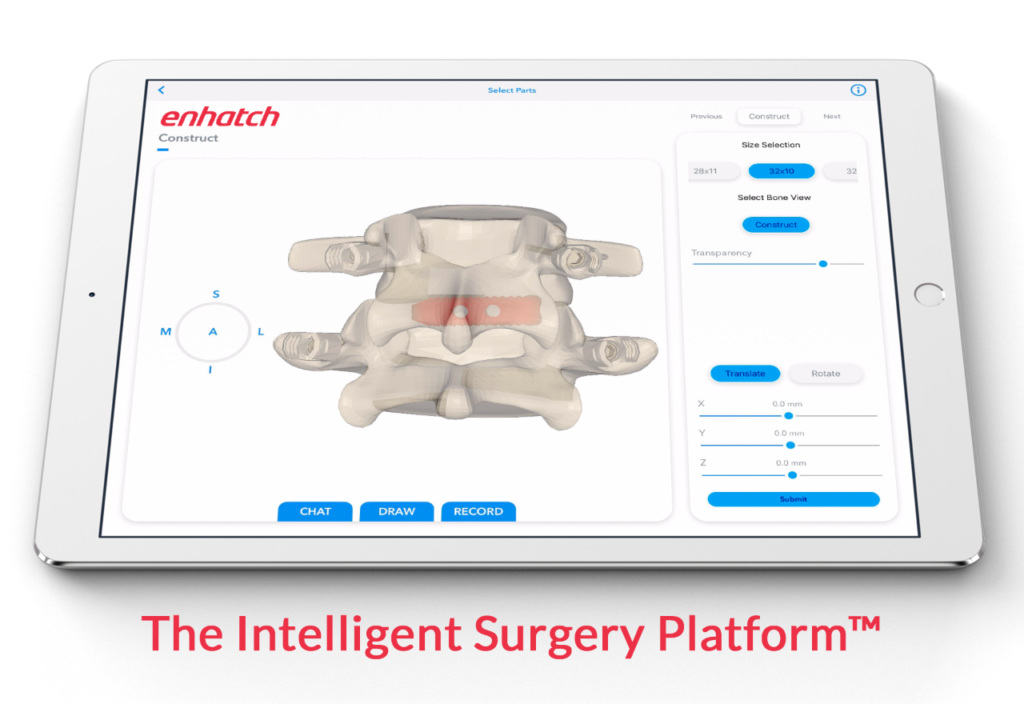 If you follow me, you know that I believe software is taking over orthopedics, and in a good way. Enhatch is one company that I particularly like in this new space. I listed Enhatch in my Hot Startups.
Now I would like to share an interesting article written by the CEO @ Enhatch. Enjoy it below.
---
Humankind will soon realize the potential for doubling its lifespan by replacing body parts as they fail. These body parts will be 3D printed directly from a mobile app and delivered with precise logistics to the surgical theatre.
Enhatch is ushering in an era where death is optional.
Efforts to 3D print human body parts have been incredibly successful in recent years, with news of printing vascularized hearts, microscale printing for kidney transplants and partial liver transplants all showing significant promise. However, for this new technology to take flight on a commercial scale, these replacement parts will need to precisely match the patient's anatomy and biology. Advanced algorithms will drive the design of the ideal replacement using radiologic data, serology, urinalysis and diagnostics yet to be invented.
Many incredible advancements are occurring along the road to immortality, but the path is winding, unpaved and requires development.
The orthopedic industry has been a pioneer in this space, rapidly implementing 3D printing over the last 25 years. Initially, it was used for plastic prototyping and faster iteration on designs. This then progressed into printing metal parts that were used during cadaver labs and pre-clinical testing. Over the last 10 years, implantable grade materials have allowed design engineers to create completely new geometries that were impossible with traditional manufacturing techniques. Patient specific implants can match the trabecular structure of the bone, recreate the kinematics for improved mobility and more precisely fit the shape of the anatomy. This can enhance healing and improve patient outcomes.
Despite the overwhelming adoption of 3D printing in the orthopedic industry, a streamlined and efficient delivery system has yet to be built.
Today, companies use people, process and technology to cobble together a delivery mechanism for patient specific devices in surgery. It is often less efficient than traditional methods, resulting in higher costs and missed surgeries. For cancer patients, there are narrow windows to perform tumor removal and joint replacement surgery between radiation treatments and the opportunity to regain their lives can be missed.
After decades of serving the orthopedic industry, we are launching the Intelligent Surgery Platform™ as the data highway for patient driven technologies.
A single, collaborative platform that automatically creates a preoperative surgical plan for surgeons to analyze and approve in virtual reality, manage the manufacturing of 3D printed implants and instruments, generate the programming for robotic surgery, and facilitate all warehouse and delivery plans for efficient logistics to the surgical theater. The platform uses artificial intelligence and machine learning to become smarter with every case and will save medical device manufacturers billions of dollars every year.
Over the next few years, we will parlay our technology into other areas of musculoskeletal care, replacing cartilage, meniscus and ligaments and as the replacement of organs becomes more feasible, serve as a conduit for life extension.
Please comment and share this vision with your networks. This is a once in a generation opportunity to help us all live longer, fuller lives and we are looking for the best of the best to join our team and facilitate the future of medical devices.
The road to immortality will be built brick by brick through the collaboration of surgeons, engineers, patients and investors with long term vision.
TO OUR CUSTOMERS, ADVISORS AND INVESTORS
Over the past year, we have brought on an incredible collection of new customers and believers to join us on this journey, including Rejoint, Additive Orthopaedics, Onkos Surgical, Signal Medical and several others to be named at a later date. We want to thank you for your trust in our technology and team. 
We would also like to thank our surgeon advisors helping us improve and evolve the platform and our business advisors, all current and former entrepreneurs helping us as we scale. And to our investors, Floodgate, Xplorer Capital, Altair, Riverside, Newark Venture Partners and several others, without your capital and guidance, we would not have been able to play bigger and aim to build a truly meaningful company.