The hype from the 2019 AAOS – 10 new orthopedic products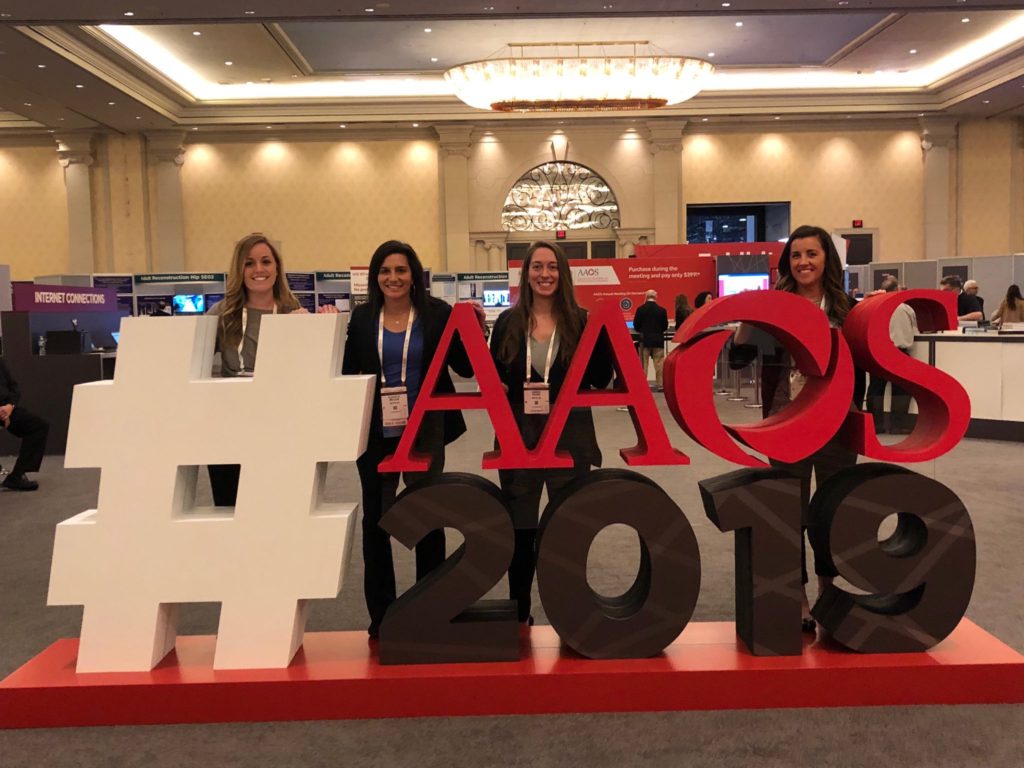 10 orthopedic products from AAOS 2019 you need to know (Medical Design & Outsourcing)
The American Academy of Orthopaedic Surgeons (AAOS)annual meeting in Las Vegas is abuzz about robotics, according to industry analysts from SVB Leerink.
While the SVB Leerink analysts termed Stryker's (NYSE:SYK) Mako platform "best-in-class," robotically assisted orthopedic surgery is an expanding category. Other major orthopedics companies are using this week's AAOS meeting to introduce new offerings or tout updates to existing ones.
Johnson & Johnson (NYSE:JNJ), for example, said it plans to debut its Orthotaxy total knee system in 2020, with spine, hip and eventually shoulder indications likely to follow. J&J bought the French robot-assisted surgery startup in 2018, and didn't have any photos of the prototype to share. But the analysts said it attaches to the patient table and includes a saw/bone cutting capability, like Mako. Unlike Mako, it will not have haptic capability. Rather, it gets the surgeon locked into a cutting plane and preserves the surgeon's control of the saw (side to side and front to back) on that plane.
Another hot topic at this year's AAOS gathering is the trend toward performing orthopedic procedures in outpatient/ambulatory surgery centers and the ways that companies are positioning themselves to better serve these lower cost-of-care settings. In contrast to hospitals, outpatient/ambulatory surgery centers require greater OR efficiency, more sensitivity to equipment costs and the requirement for quicker patient discharge.
In fact, Smith & Nephew (NYSE:SNN) and ultimately, J&J, appear to be positioning their robotics platforms as more conducive to an ambulatory surgery center setting, with lower-priced systems and smaller system footprints. The J&J device could come in at half the price of Mako, but it will only be one part of an interconnected ecosystem of pre-operative, intra-operative, and post-operating surgical intelligence/digital surgery capabilities, the analysts said.
Here are some examples of what ortho device manufacturers are touting at the meeting:
---
Zimmer Biomet: Robotically assisted knee replacement
Zimmer Biomet's Rosa total knee surgical robot debuted at AAOS. (Image from Zimmer Biomet)
Zimmer Biomet (NYSE:ZBH) is showing off its Rosa robotically-assisted total knee replacement surgery platform, cleared in January by FDA, and previewing some future innovations at AAOS. The newly cleared Rosa system includes 2D x-ray and 3D pre-operative planning tools and real-time intraoperative data on soft tissue and bone anatomy, allowing surgeons to conduct a "virtual knee replacement" with predictive outcomes
of balance and implant placement before performing any cuts.
In addition to helping surgeons improve bone cut accuracy and range of motion gap analysis, the Warsaw, Ind.–based company said that the Rosa system gives them the ability to analyze that data and link to post-operative long term outcomes.
---
More from Zimmer Biomet: An Apple Watch app
Zimmer Biomet's Mymobility app connects joint surgery patients with their care team before and after surgery. (Image from Zimmer Biomet)
Zimmer Biomet recently launched a clinical study of Mymobility, its new patient care management app for the Apple Watch and iPhone. The platform is designed to help patients prepare for hip or knee replacement surgery, allowing them to connect with their surgeon and care team before and after the procedure, receive reminders for tasks to complete and encouragement throughout the process.
Patients may also share photos with their care team, such as a snapshot of the surgical incision site for a healing assessment. The app collects and monitors objective data about patients' surgical preparation and recovery to help surgeons deliver better support and guidance, according to the company.
---
Smith & Nephew: Hand-held surgical robot
Smith & Nephew is readying new software for its Navio hand-held surgical robot.
London-based Smith & Nephew offered a preview of Navio 7.0, the latest software for its hand-held robotic surgical system. Navio 7.0 was designed to improve the surgeon experience through a new intuitive interface, expanded surgical preferences, and streamlined workflow that may reduce surgery time over the previous version. The new software could be available in the second half of 2019.
The company also said it plans to introduce a next-generation Navio system and handpiece in 2020. It will be smaller than the current device and CT-free, which will enable its incorporation into the company's sports medicine tower and make it more usable in ambulatory surgery centers.
Smith & Nephew added that its research & development program is looking to add augmented reality, stand-alone robotic arms and machine learning to its platform, and said it plans to open a new R&D and education center focused on robotics in Pittsburgh.
---
Stryker: A better humeral stem?
Stryker's ReUnion S humeral stem (Image from Stryker)
Stryker introduced a redesigned ReUnion S humeral stem to improve bone preservation, alignment and stability in shoulder arthroplasty. Certain humeral short stems have been associated with unacceptably high rates of malalignment, loosening, shortening, increased proximal bulk and other adverse bone reactions, according to a statement by the Kalamazoo, Mich.-based company. Stryker says the new humeral stem is "more anatomically relevant."
The company did some internal studies and determined that the ReUnion S:
Preserves more bone mass proximally and distally compared to competitive stems. Keeping the wedge shape proximal body may give the user better soft-tissue management rather than limiting it by the stem design.
Improves alignment to avoid varus/valgus placement of the stem.
Boosts stability because the enhanced medial sweep of the stem avoids distal engagement while the alignment focuses length and incremental distal sizing options prevent canal migration. The S stem is designed to retain the alignment and stability benefits of a longer humeral stem prosthesis.
---
More from Stryker: Augmented reality software, new nailing system
Stryker's Adapt for Gamma3 software uses augmented reality to project 3D-based measurements on patient X-rays. (Image from Stryker)
Stryker's trauma and extremities division launched Adapt for Gamma3 software and the T2 Alpha nailing system. Adapt for Gamma3 uses augmented reality to project 3D-based measurements on patient X-rays. Adapt's software may eliminate the need for certain hardware instrumentation while enabling surgeons to guide implant alignment, lag screw length determination, lag screw positioning and distal targeting, a company statement said.
T2 Alpha implants are designed to adapt to diverse intraoperative needs, addressing varying patient anatomy. T2 Alpha also has an advanced locking screw option for added axial and angular stability. It limits relative motion between the nail and screw, allowing surgeons to provide additional nail stability when needed, according to the company.
Stryker also debuted four visualization tools for arthroscopy — HipCheck, HipMap, the 1688 Advanced Imaging Modalities (AIM) 4K visualization platform, and the Connected OR Hub. HipCheck works as an interactive tablet integrating into existing OR workflow, calculating intraoperative measurements and working to make more accurate bone deformity measurements. It includes HipMap, a 3D imaging tool designed to improve pre-operative planning.
The 1688 AIM 4K platform has 4K resolution and fluorescence, auto-light technology, better ergonomics and seamless standardization, Stryker said. Approved for use in a variety of specialties, including arthroscopy, the platform's light source features auto-light technology that automatically corrects poor lighting in posterior compartments and self-adjusts based on anatomy.
The Connected OR Hub allows surgeons to capture, record, stream and print images directly from the 1688 AIM 4K Platform. Surgeons can also use the hub to customize their respective surgeon profiles and desired tower settings to drive efficiency. It offers seamless connectivity between devices in the OR.
---
Wright Medical: Giving surgeons more tools for shoulder revisions
Wright Medical's Revive shoulder revision system (Image from Wright Medical)
Wright Medical (NSDQ:WMGI) showcased its new Revive revision shoulder system, which provides surgeons with specialized extraction instruments for implant removal and a unique humeral prosthesis for achieving successful joint reconstruction. The Revive prosthesis was designed to simplify humeral reconstruction and optimize stability and function by giving the surgeon independent control over implant fixation, height and rotation. Amsterdam-based Wright expects to launch Revive in the U.S. in the first half of this year.
"Shoulder surgery volumes have doubled in the last ten years, and we believe we are approaching an inflection point for revision surgeries," said Wright Medical president & CEO Robert Palmisano in a prepared statement. "The upcoming launch of our Revive revision shoulder system is a significant new product launch for our shoulder business and highlights our ability to help physicians address this segment of the shoulder market, which is growing at approximately twice the primary shoulder replacement market."
---
DJO Global: An adaptable surgical arm for total hip arthroplasty.
DJO Global's Adaptable surgical arm for direct anterior approach total hip arthroplasty. (Image from DJO Global)
DJO Global (Vista, Calif.) introduced its Adaptable surgical arm at AAOS. Billed as the first fully sterile, surgeon-controlled leg and retractor holder designed for a safe direct anterior approach (DAA) total hip arthroplasty (THA), the fully-mechanical, carbon fiber surgical arm is designed to work seamlessly with any standard operating table and may enable having fewer assistants in the operating room, according to the company.
DAA is the fastest growing THA approach, representing approximately 40% of all hips being done in the U.S., according to a 2018 poll of the American Academy of Hip and Knee Surgeons. DJO designed the Adaptable surgical arm as an alternative to large, heavy, costly and difficult-to-store specialty surgical tables introduced in the early 2000s to assist with patient positioning and exposure during the DAA procedure. Those tables also require specially trained personnel to operate them and may not be an option for many hospitals and surgery centers, the company said.
The Adaptable surgical arm weighs about 10 lbs., is less expensive than a specialty table and may be easily transported between hospitals, DJO added. It may be used for retractor placement or leg positioning for femoral exposure, range of movement and leg length assessment.
"The specialty table model for DAA doesn't align with today's cost-conscious healthcare environment," said Dr. Raymond Kim of the Steadman Clinic in Vail, Colo., in a prepared statement from DJO. "Adaptable is a game-changing device for DAA THA. It empowers surgeons to reduce the number of staff intra-operatively and increases the overall OR economy. Its versatility as both a retractor and leg holder, as well as its promise for future indications, are a much needed-innovative and modern solution to patient care."
Colfax Corporation (NYSE:CFX), completed its $3.15 billion acquisition of San Diego-based DJO Global in February.
---
Kyocera Medical Technologies: Acetabular joint liner tech with 'ceramic-like' wettability
Kyocera Medical Technologies expects FDA clearance for its Aquala acetabular liner this year. (Image from Kyocera)
Kyoto, Japan-based Kyocera Medical Technologies (TYO:6971) touted its Aquala acetabular joint liner technology as having "ceramic-like" wettability in highly crosslinked UHMWPE for improved wear. Kyocera said it designed Aquala to create an exceptionally low-friction bearing surface on the acetabular side of the hip joint, which couples with diamond-polished ceramic on the femoral side.
The company developed the technology with the University of Tokyo to reduce wear debris and extend the life of artificial hip implants. Hip joints using Aquala technology have been used in approximately 45,000 total hip replacements worldwide, and are under review by FDA, with 510(k) clearance expected this year.
---
OrthoSensor: Two new sensors are in the pipeline
OrthoSensor's Verasense enables surgeons to quantify ligament balance and customize implant position. (Image from OrthoSensor)
OrthoSensor said it's working on MotionSense, a wearable sensor for patient data collection, and Shoulder Sensor, an intraoperative sensor for reverse shoulder arthroplasty. Neither is commercially available, and Shoulder Sensor hasn't received FDA clearance.
But the Dania Beach, Fla.-based company had news about the performance of its Verasense sensor-assisted device cleared in June 2018 for use with Zimmer Biomet's Persona knee system during total knee replacement procedures. Verasense device uses advanced sensors and wireless connectivity to analyze knee balance and improve outcomes, OrthoSensor said.
"Our growing body of clinical evidence is proving that Verasense helps surgeons address soft tissue balance during TKA and improves patient-reported outcomes," said OrthoSensor president & CEO Ivan Delevic in a prepared statement. "Our results also demonstrate Verasense can save as much as $725 per patient by lowering variable of post-operative and post-acute care."
---
Conformis: New customized hip system tops 200 procedures since July
Conformis now offers custom hip systems with 3D printed cutting guides. (Image from Conformis)
Conformis (NSDQ:CFMS) showed off its 3D-designed, customized total hip replacement system, having announced the first two procedures using the system in July. Since then, more than 200 procedures have been completed at over 20 different sites across the U.S., according to the Billerica, Mass.-based company.
Similar to the design process for the Conformis knee technologies, the company's hip system uses proprietary software to design, manufacture and deliver the implants and iJigs instruments. After each patient's CT scan is converted into a 3-dimensional computer model, the unique measurements of that patient's anatomy are transformed into a comprehensive, individualized, pre-operative surgical plan that is delivered to the surgeon in advance of the operation. Patient conforming, single-use, 3D-printed cutting guides are included in the patient-labeled kit, limiting the need for the many reusable instruments required for a standard, off-the-shelf total hip replacement, the company said.
"We have been very pleased with the feedback we have received over the past seven months from the participating medical advisory board surgeons and are excited to speak widely to the conference attendees about our new technology," said Conformis president & CEO Mark Augusti.