Analyst: Latest Stryker deal is more than "just another tuck-in acquisition"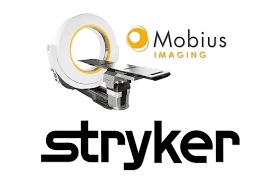 Analyst: Latest Stryker deal is more than "just another tuck-in acquisition" (MedCityNews)
Don't mistake Stryker's latest $500 million deal in the spine market as a simple tuck-in acquisition, says one analyst while another says it could help Stryker give Medtronic a run for its money.
On Wednesday, orthopedics company Stryker announced that it was buying Mobius Imaging and its sister company, GYS Tech, (which does business as Cardan Robotics), for $370 million upfront cash and up to $130 million in milestone payments.
Per Stryker's announcement Mobius Imaging, founded in 2008 and based in Massachusetts, is focused on "integrating advanced imaging technologies into medical workflow, which can enhance a clinician's ability to obtain high-quality images." Its Airo TruCT scanner is a mobile, real-time, diagnostic-quality CT imaging system. Cardan Robotics, founded in 2015, is developing novel robotics and navigation technology systems for surgical and interventional radiology procedures.
"This acquisition brings expertise in advanced imaging and robotics as well as a robust product pipeline that add to Stryker's portfolio and will allow the Spine division to provide more complete procedural solutions, including sales, service, and support," said Spencer Stiles, Stryker's Group President, Orthopaedics and Spine, in the news release announcing the deal.
On the face of it, it appears that the Kalamazoo, Michigan device company was doing what it has a penchant for — tuck-in acquisitions. However, one analyst believes Wednesday's announcement has far-reaching ramifications.
"The transaction would have been just another [Stryker] tuck-in but we believe the transaction has broader implications for [Stryker] and its plans in spinal robotics," wrote Ryan Zimmerman, a research analyst with BTIG, in a research note Thursday. "At a high level we believe investors should view the transaction positively as [Stryker] made another differentiated bet on robotics with the acquisition."
Another differentiated bet is, of course, a reference to the first bet the company took on robotics when it bought Mako Surgical for $1.65 billion back in 2013. The decision to buy Mako six years ago was bold because none of the larger ortho players had envisioned joint replacement procedures to be done by a robot back then let alone spend a billion dollars to get that capability.
There are steps healthcare providers can take to ensure that patients are able to receive the care they need in a timely fashion.
And now Stryker appears to be taking a bet to bring robotic surgery to the spine, although in a less, eye-popping deal.
Here's how Zimmerman broke it down:
"Though [Stryler] has remained focused on large joint reconstruction with MAKO and downplayed questions about its plans in spinal robotics, we believe the Cardan Robotics component of the acquisition is more interesting and what investors should focus on," he wrote.
Zimmerman added that while not much detail is available about Cardan Robotics, its robot is apparently "designed to facilitate cannula placement for the various target points used in transforaminal endoscopic decompression, a unique procedure designed for disc herniations, annular tears, and other soft tissue spinal stenosis." [In fact, Cardan Robotics' website makes it look like startups that are in stealth mode.]
Through this acquisition, Stryker also gets its hands on the Mobius Airo scanner, that the company described as a "best-in-class mobile, real-time, diagnostic-quality CT imaging system."
So the Cardan robotics technology combined with the Mobius Airo would "position Mako well in an outpatient setting and offer a differentiated platform beyond robots today that primarily place pedicle screws," according to Zimmerman.
Another analyst who like Zimmerman has a buy rating on Stryker's stock currently trading around $220 (up a dollar or so on the acquisition news) said the deal might help Stryker give the number one player in the spine market a run for its money.
"We view the M&A positively as it provides Stryker's Spine division with an immediate entry into the intra-operative imaging market, complements its existing implant and navigation offerings, and significantly bolsters the company's robotic and navigation expertise, something we continue to view as the future of spine surgery," wrote Kyle Rose, an analyst with Canaccord Genuity, in a research note Wednesday. "What's more, we believe the addition of these technologies, when fully integrated into [Styker's] broader product portfolio (navigation and implant systems), substantially improves
[Stryker's] ability to compete head-to-head with Medtronic on bundled contracts given [Medtronic's] very public focus on using its 'enabling technologies' to secure market share and pull through implant utilization."
Medtronic commands a 28 percent share of the global spine market, according to one estimate. Stryker is in fourth place accounting for 11 percent.