26 players in the SI joint market
Great overview analysis of the SI Joint market written by SPINEMarketGroup. Visit SPINEMarketGroup here – http://www.thespinemarketgroup.com/
---
MIS Sacroiliac Joint Fusion Market: Does it Grow? Who are the Companies Leading the market?
Sacroiliac joint fusion is a surgical procedure which fuses the iliac bone (pelvis) to the spine (sacrum) for stabilization. It is performed for a variety of conditions including trauma, infection, cancer, and spinal instability. Sacroiliac joint fusion may be performed as a minimally invasive surgical (MIS) procedure or as an open surgical procedure requiring a larger incision and subsequent increased recovery time.
Percutaneous SIJ fusion is a MIS approach in which instrumentation involving cages or screws, with or without bone graft, are placed percutaneously in order to achieve a fusion. Fusion of the SIJ, combined with bone grafts and other metal implant devices, is an extensive procedure; generally considered a salvage procedure when all other measures have failed to provide pain relief.
Does the MIS Sacroiliac Joint Fusion Grow?
North American is the largest market of MIS Sacroiliac Joint Fusion, with a market over 100 mill USD with a yearly growth of 10%.
According to Market Study Report LLC, the size of the MIS Sacroiliac Joint Fusion global market was accrued at 150 Million USD in 2019 and is presumed to accumulate over 360 Million USD by the year 2024.The MIS Sacroiliac Joint Fusion market is expected to grow with a CAGR of 15.5% during the period of 2019-2024.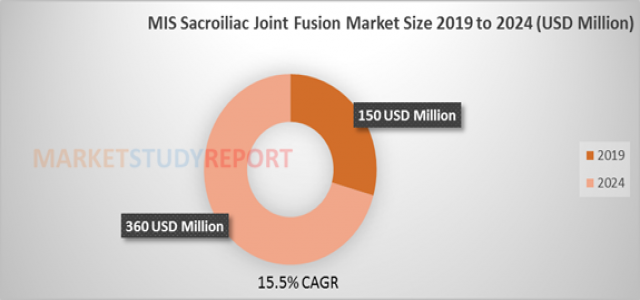 Additionally, clinical evidence demonstrates that SIJF is an effective procedure.The popularity of sacroiliac joint fusion has grown rapidly over the past five years, with SI-Bone's Ifuse device leading the market. Recently approved by the US Food and Drug Administration, the company has released a new version of their traditional triangular titanium implants. The second-generation products (Ifuse-3D implants) are made using additive manufacturing, and incorporate a fenestrated design and porous surface.However, following the rapid expansion in recent years, market growth is expected to stabilize over the coming years.
This market has experienced rapid growth as a result of :
Reimbursement policy changes
New product entrants.
Increasing an awareness of SI joint dysfunction and improvements in diagnostic processes.
The Market and Competition:
SI-BONE was the first company to enter the MIS SI fusion market space with their iFuse Implant System® (iFuse®). Zyga Technology (acquired by RTI Surgical) was the second leading competitor in the MIS SI fusion market. Globus first received 510(k) clearance with their SI-LOK® in December 2011 and subsequently brought the product to market in the latter half of 2012.
12 TOP Competitors (in Market share):
SI-BONE
Medtronic
RTI Surgical (Zyga Technology)
Globus Medical
Zimmer Biomet
Orthofix
Life Spine
Camber Spine
CoreLink Surgical
Xtand Medical
Captiva Spine
SpineFrontier

1.- iFuse Implant System | SI-BONE
SI-BONE® was founded in April, 2008 as a spin out when Wright Medical bought INBONE Technologies. INBONE, with the ENDO-FUSETM Intra-Osseos Fusion System, was founded by Dr. Mark Reiley, the inventor of kyphoplasty and the vertebral fracture treatment.
VIDEO Animation: Th iFuse Implant
SI-BONE developed an innovative, patented implant for some causes of SI joint pain. The iFuse Implant System® provides a less invasive alternative to traditional sacroiliac (SI) joint fusion surgery. The iFuse Implant System uses the same titanium implant technology that has been used in the ENDO-FUSE System in over 1,000 patient cases.
2.- SImmetry Sacro Iliac Fusion | RTI Surgical
SImmetry Sacroiliac (SI) Joint Fusion System is a minimally invasive surgical solution designed for patients with unresolved symptoms of sacroiliac (SI) Joint dysfunction that have not responded to conservative non-surgical therapies.
VIDEO Animation: SImmetry System
Physicians have many options today for dealing with SI joint dysfunction. SImmetry Sacroiliac Joint Fusion is the system that follows proven orthopedic principles to promote true intra-articular arthrodesis for optimal patient outcomes. The SImmetry System consists of a range of threaded, cannulated implants and associated instrumentation designed to transfix the sacrum and ilium and create the conditions needed for bony growth across the SI joint.
3.- SI-LOK® SELECT screws | Globus Medical
SI-LOK® SELECT screws and instruments are designed for lateral and posterior approaches to the sacroiliac (SI) joint. With optimal slot geometry for varying patient anatomy and SintrOS™ laser surface treatment technology, SI-LOK® SELECT is designed for multiple approaches and engineered for fusion. This system is compatible with freehand fluoroscopy, ExcelsiusGPS® navigation and guidance, and other navigation techniques.
VIDEO Animation: SI-LOK
The screw with a polyaxial washer contours to the iliac wing. The washerless screw provides a no profile option.Overlapping slot geometry is engineered to optimize fusion across the SI joint and accommodates varying patient anatomy.Laser surface treatment is designed to encourage cellular activity at the bone interface.
4.-RialtoTM SI Fusion System | Medtronic
The RIALTO™ SI Fusion System consists of cannulated devices of various widths and lengths used to provide stabilization when fusion of the sacroiliac joint is desired. Autograft and/or allograft may be placed in conjunction with the RIALTO™ SI Fusion System. This device may be implanted via a minimally invasive approach.The RialtoTM SI Fusion System is intended to stabilize your sacroiliac joint and provide an environment for fusion (joining bones together into one solid structure) to occur.
VIDEO Animation: Rialto
The Rialto SI fusion system consists of cylindrical threaded devices designed to enhance sacroiliac joint fusion. The threaded devices are offered in various lengths to accommodate your anatomy. For fusion of the SI joint, one, two, or three devices may be placed at your surgeon's discretion.The RIALTO™ SI Fusion System is intended for sacroiliac joint fusion for conditions including sacroiliac joint disruptions and degenerative sacroiliitis.
5.- TriCOR | Zimmer Biomet
The TriCor Sacroiliac Fusion System is designed to facilitate true bony fusion and arthrodesis across the sacroiliac (SI) joint using a repeatable lateral approach.
Implants Designed for Joint Compression and Stability:Fenestration allows for bone graft introduction to fusion site. Dual-pitch compression threads designed for joint compression and titanium plasma coating on 12.5mm implants helps maximize stability. Anti-migratory scallop designed to prevent device back out.
Streamlined Instrumentation for a Repeatable Lateral Approach: Instrumentation allows for direct exposure and SI joint decortication to help promote fusion. Drills auto-harvest autograft, which can be placed in the fusion site or within the implant itself to augment fusion and intuitive technique minimizes surgical steps.
6.- FIREBIRD™ SI Fusion System | Orthofix
The FIREBIRD™ SI Fusion System is a family of 3D printed titanium implants designed to compress and stabilize the sacroiliac joint during the fusion process. This novel device is designed with a porous mid-shaft region that allows bone to grow into its surface — creating a bond between the implant and the patient's bone at the SI joint.
VIDEO Animation: FIREBIRD™
Porous mid-shaft region that allows bone to grow into its surface
Axial fenestrations for bony through growth and post-procedure graft evaluation
Reverse cutting flutes and radial fenestrations for self-harvesting of autograft
Self-tapping threads for reduced procedural steps
Dual pitched threads and tapered proximal end for up to 3.75 mm of compression across the SI joint
Available in 11 mm and 12 mm diameter implants in lengths ranging from 25 mm to 70 mm to accommodate the variety of patient anatomies.
7.- SImpact | Life Spine
SImpact Sacroiliac Joint Fixation System consists of two unique diameter cannulated implants offered in various lengths, in full and partially threaded configurations to accommodate variations in patient anatomy. SImpact is intended for sacroiliac joint fusion for conditions including degenerative sacroiliitis and sacroiliac joint disruption.
VIDEO Animation: SImpact
Self-drilling screw designed to reduce surgical steps by removing the need to create a pilot hole
Threaded configurations offer construct customization based on patients' needs
Anti-Rotational sleeve designed to prevent screw back-out
8.- Prolix SI fusion system | Camber Spine
Prolix SI fusion system is the "first true fusion product designed to treat Sacro-Iliac pain."The system, according to the company, utilizes a "safe inferior approach between the posterior superior iliac spine (PSIS) and the posterior inferior iliac spine (PIIS). A machined cortical bone spacer is implanted between the sacrum and ilium through a special cannula. The space is now treated like a discectomy to help promote fusion as opposed to only limiting motion of the joint when solely using lateral screws."Prolix, used in conjunction with lateral screws, has the potential to decrease the opportunity for revisions by providing a true fusion technique to the spinal implant market to treat Sacro-Iliac pain.
VIDEO Animation: Prolix SI Fusion
A Minimally Invasive Posterior Solution for Sacroiliac Fusion
Intended for use with any SI supplemental fixation system for joint strength and stability
Minimally invasive posterior/ inferior surgical approach
Fusion under direct visualization of the SI Joint
9.-Entasis | CoreLink
Entasis Sacroiliac Joint Fusion System was designed to better address the challenges of SI joint fusion procedures through innovation in the delivery of autograft and compression across the joint. Further innovations also provide improvements in ease of use and decreased operative time for this rapidly growing surgical procedure.
Featuring circumferential helical graft windows, Entasis is the only SI joint fusion device that self-harvests bone graft while simultaneously compressing the joint, which, according to Wolff's law, may help aid the fusion process1.
Entasis supports a percutaneous or open lateral approach, and utilizes a more rigid guide wire to ease device placement. Entasis implants feature self-drilling/self-tapping tips and dual-lead threads allowing easier initial purchase, limited placement trauma as opposed to current market leaders, and faster implantation.
The system offers three diameters and nine length options, more than any other SI product on the market, enabling the surgeon to better match the device to varying patient anatomies.
In the event of misplacement, the implant also features an Easy-OutTM interface and matching tools to quickly explant.
10.- Silex Sacroiliac Joint Fusion Implant System | Xtant Medical
A distinctive sacroiliac joint fusion system designed to promote fusion using titanium plasma-coated single or dual lead anchor implants fenestrated for bone graft introduction along with cannulated titanium locking implants.SILEX Brochure.pdfDownload
12.5mm Anchor implants offered (single thread and dual thread)
7mm Locking implants offered (dual thread)
12.5mm Anchor implants are fenestrated to allow for direct bone graft apposition
11.- TransFasten Posterior SI Fusion | Captiva Spine
Captiva Spine is a medical device organization located in Jupiter, Florida, dedicated to creating sincere and collaborative relationships to deliver smart, elegant, and intuitive spine fusion solutions. The TransFasten Posterior SI Fusion System was developed in conjunction with Robert Lins, M.D., Orthopedic Spine Surgeon at The Center for Bone & Joint Surgery of the Palm Beaches.
VIDEO Animation: TransFasten
Posterior Approach – Potentially reduces operative time and Neurovascular complications.
Posterior Fusion Site Preparation – Allows for efficient preparation of the joint and press fit implant placement.
A form of "Mortise and Tenon" Stabilization of the SI Joint (a proven and established method of Architectural Stabilization) – The geometry of the TransFasten implant across the joint is designed to stabilize the motion segment without disrupting the anatomy and creating new pain generators.
Structural Allograft Implant – Custom allograft implant includes a large trans-joint graft window for accommodating a biologic fusion
12.-SacroFuse | SpineFrontier (KICVentures)
SacroFuse helps to eliminate this pain by fusing or fixating the sacroiliac joint, reducing the irregular movement of the joint by stabilizing it to alleviate much of the pain. This is a less exposure outpatient procedure that can dramatically improve patients' quality of life.SacroFuse is an innovative sacroiliac fusion technology that follows the philosophy of Less Exposure Surgery, and has several features that make it one of the most cutting-edge solutions on the market today
VIDEO Animation: SacroFuse
SpineFrontier™ is a spinal implant and device company. We design and develop innovative solutions in spinal fusion and Less Exposure Surgery (LES℠). SpineFrontier Inc is a KICVentures company.Please for more informatio visit: http://www.spinefrontier.com
Recently Launched:Genesys Spine Sacroiliac Joint Fusion system (Launched on February 2020):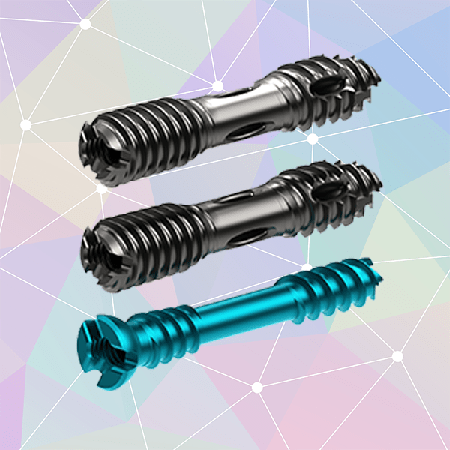 The system consists of partially threaded and fully threaded implants designed to secure the sacroiliac joint and minimise micro-motion enabling bony fusion.
Benefits:
Dual thread designs incorporate a differential pitch for controlled compression across the joint
Cannulated design allows for minimally invasive placement
Offered in fully threaded and dual threaded configurations
Optional washers designed to maximize purchase on the ilium without burying the screw head in the bone
Increased surface roughness to help facilitate osteoinduction
Rifled inner diameter to reduce inadvertent targeting pin migration
Other Relevant Competitors: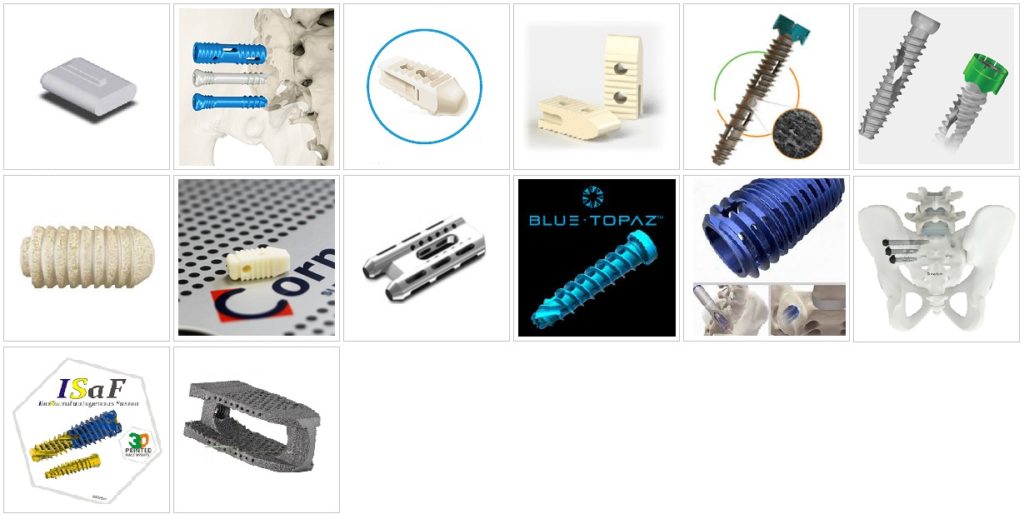 13.- SiJoin® procedure | VGI Medical
SiJoin is a patented sacroiliac (SI) implant designed specifically for stabilization and fusion of the SI joint. The dual geometric allograft implant utilizes vertical stabilizer fins to maintain optimal anatomical width across the joint, in an attempt to alleviate associated nerve pain. The procedure is performed utilizing specially designed instrumentation that enables a safer posterior approach that simplifies the surgery and makes it reproducible. The SiJoin® procedure reduces time in the operating room, reduces blood loss and the risk of possible neural complications associated with other sacroiliac joint fusion procedures.
VIDEO Animation: SiJoin® procedure
Less Invasive: The SiJoin procedure is a simple less destructive procedure, minimizing soft tissue damage, which reduces recovery time associated with the surgery.
Less risk: Compared to other SI Joint fusion methods, the SiJoin procedure is a safer option, by mimimizing the risk of neural complications.
Stabilization and fusion: The implant both maintains the anatomical position of the joint and enhances sacroiliac joint fusion.
Patented Implant Design: Dual geometric allograft implant with dual stabilizer fins designed to generate greater biomechanical stability across the affected joint.
14.- PathLoc| Aegis Spine
PathLoc-SI joint fusion system allows for stabilization and fusion across the sacroiliac (SI) joint.
VIDEO Animation: PathLoc
Various type of bone screws to accommodate variations in patient anatomy.
Screws with two pitches for strong fixation
Large bone graft window
15.-LinQ™ Sacroiliac Joint Fusion System | PainTEQ
The LinQ™ Sacroiliac Joint Fusion System allows for fusion and stabilization of the SI joint in eligible patients where appropriate non-surgical treatment has failed. Stabilization of the SI joint may provide immediate relief of pain symptoms.
VIDEO Animation: LinQ
The LinQ™ surgery may be performed in a less invasive way than traditional Sacroiliac Fusions, allowing for less blood loss and potentially quicker recovery time. The system is intended for sacroiliac joint fusion for conditions including Degenerative Sacroiliac and Sacroiliac Joint Disruptions.
Minimally invasive
No metal implanted
Short Procedure Time
Fast Recovery Time
Proven Results
PSIF system allows the surgeon to take a familiar posterior approach to fusing the SI Joint. Unlike the challenging lateral approach to fixate the SI Joint, PSIF is a safe and extremely reproducible surgical procedure.
VIDEO Animation: PSIF system
PSIF system allows the surgeon to take a familiar posterior approach to fusing the SI Joint. Unlike the challenging lateral approach to fixate the SI Joint, PSIF is a safe and extremely reproducible surgical procedure.
The EVOL®SI Joint Fusion System improves osseointegration through the combination of high wettability and optimal surface chemistry (with optimized nano-roughness) that mediates bioactivity and specific protein absorption to the implant. These properties regulate cell behavior and influence tissue regeneration by increasing the osteoblast functions, thus building more bone faster.
Compared to traditional coatings, where bone anchors to the coating, this HA Surface does not act as an interface separating bone from implant. The nano-thin surface enables newly formed bone to grow directly into the micrometer topography, or roughness, of the implant surface, thus providing mechanical stability with no risk of cracking or delamination of the implant.
18.- SiCure™ Sacroiliac Fusion System | Alevio Spine
The SiCure™ Sacroiliac Fusion System is a second-generation comprehensive sacroiliac joint fusion system. The design is unique in that either lateral or posterior approach. The SiCure Sacroiliac Joint Fusion System consists of cannulated, fully threaded screws with double helix threads designed to be able to screw into pre-drilled bone. It is fabricated from medical grade titanium alloy, Ti-6Al-4V (ASTM F-136).SICure Brochure.pdfDownload
The SiCure System screw comes in various sizes and lengths to accommodate patient anatomy. Optional pivoting washers are included for each screw diameter to aid in conforming to patient anatomy. The design of the SiCure features a "patented dual-lead helical thread design that allows harvesting and repacking of the patient's own bone back into the screw as it advances". The benefit of this unique feature saves both O.R. time, and additional biologic material costs. This self harvesting option makes the SiCure™ unique among SI joint comprehensive systems currently on the market.
19.- SIFIX Intra-Articular System | NuTech
SIFIX Intra-Articular System is indicated for mini-open Sacroiliac joint fusion for conditions including minor joint instability and degenerative Sacroilitis.
Minimal midline skin incision provides access to bi-lateral Sacroiliac (SI) joint spaces for fusion preparation.
Cancellous allograft with bone-to-bone interface enhances bony in-growth.
Minimally disruptive technique reduces operative time, tissue trauma, and post-operative pain compared to other fusion techniques.
Textured, anti-migration surface resists graft dislocation.
20.-CornerLoc™ SI Joint Stabilization System | CornerLoc
The CornerLoc™ SI Joint Stabilization System has been specifically designed to achieve optimal stabilization and fusion potential, with minimal surgical invasiveness. After careful preparation of the SI joint, two CornerLoc™ grafts are placed orthogonally within the SI joint, effectively creating immediate joint stability and an ideal environment for fusion.
VIDEO Animation: CornerLoc SI Joint Stabilization System
Our cortical allografts have been painstakingly engineered to provide maximum stabilization, transfixing the SI joint with minimal risk of post-operative complications.CornerLoc™ is a posterior approach procedure. It is done via two small incisions in the lower back, which is the shortest and safest route to the SI Joint.
The Catamaran Sacroiliac Joint Fixation System (CAT SIJ Fixation System) was developed as a less invasive alternative to traditional
open posterior surgical SIJ fusion. The Catamaran Sacroiliac Joint Fixation System (CAT SIJ Fixation System) includes the Catamaran SIJ Implant and associated surgical instruments: an Access Set, a Drill/Delivery and an Accessory Set and an Extraction Set.
The titanium implant consists of two hollow barrels connected by a bridge. During the procedure, autologous bone graft material is placed in the barrel of the implant to facilitate stabilization. The Catamaran SIJ Implant is available in two (2) different barrel diameters (7.5mm and 10mm) and two implant lengths (30mm and 40mm) for a total of four sizing options to fit patient anatomy. The Catamaran SIJ Implant is intended for single-use only. The implants and associated components are provided clean and non-sterile and designed for routine steam sterilization prior to use.
The unique minimally invasive approach is designed to take less time and fewer surgical steps and represents a landmark innovation for SIJ fusion surgery benefiting patients, surgeons, facilities, and payers.The Catamaran addresses this unmet clinical need by providing a less invasive way to stabilize the SI joint without compromising the important surrounding soft tissue structures.
22.-Blue Topaz™ CompresSIve Sacroiliac Screw System |Osseus
The Blue Topaz™ CompresSIve Sacroiliac Screw System consists of fenestrated, double helix threaded screws with aggressive distal cutting flutes allowing for effortless bone purchase. The implant's open architecture encourages osseointegration and reduces radiographic signature. Integrated safety features help control targeting and screw insertion while streamlined instrumentation facilitates procedural efficiencies. The implants come in various lengths and diameters to accommodate patient anatomy and optional washers can be used for increased compression across the SI joint.
Graft Delivery: Positive lock engagement of implant to inserter enables seamless graft delivery.
Open architecture: Open architecture encourages osseointegration and reduces radiographic signature.
Bone purchase: Distal cutting flutes and double helix threads allow for effortless bone purchase.
Efficient: Integrated safety features help control targeting and screw insertion while streamlined instrumentation facilitates procedural efficiencies.
DIANA is a simple and safe technique for fusion of the sacroiliac joint based on distraction interference arthrodesis, while accounting for neurovascular and osseous structures. Targeted, reproducible placement of the DIANA implant is achieved with sequential instrumentation, performing ligamentotaxis to stabilize the joint during the fusion process.DIANA Surgical Technique.pdfDownload
Extremely safe dorsal approach away from the nerves and large blood vessels; the stabilizing ligamentous apparatus remains intact; bony and muscular structures are not impaired; controlled bony fusion; correctable (malpositioning of the implant will still not harm the nerves or blood vessels); the position can be controlled radiologically on three different planes during surgery; the essential markers of the instruments are visible; improvement in back AND leg pain has been demonstrated.
The DIANA implant is anchored at the hardest point of the pelvic bone. It ensures that the short distance between the painful joint surfaces restored by surgery is maintained during the healing phase, when the new bone graft material is transformed into solid bone and thus stabilizes the joint.
The tapered titanium implant has self-tapping, hollow threads at the front end, enabling it to be rapidly and securely screwed into the desired position.The other, wider end has stronger threads and a broader supporting surface (shoulder), preventing the implant from sinking into the softer bone of the sacrum. Along with specially designed instruments, allowance is therefore made for the asymmetrical bone densities between the sacrum and ilium.
24.- M.U.S.T. SI Screw System | Medacta
The M.U.S.T. SI Screw System is intended for sacroiliac joint fusion for skeletally mature patients suffering from sacroiliac joint disruption, degenerative sacroiliitis and degenerative sacroiliac arthritis, secondary to pelvic disruption.
Screws coated with porous and rough hydroxyapatite that are designed with hollow-body and multiple fenestrated patterned shafts to promote biological fixation and optimal arthrodesis.
The self-tapping screws have radial windowed slots to optimize surrounding bone access to the bone substitute, allowing greater bone growth; a long pitch and dual lead thread for accelerated screw insertion and removal; and a tapered tip to aid in guidance through the pilot hole.
The system also offers "one-size-fits-all" washers with favored angles, capable of accommodating extreme angulation and allowing optimal compression, as well as a comprehensive range of lengths suited for diverse patient anatomies.
25.-ISaF IlioSacral autogenic Fusion | LFC
Using sophisticated construct and procedure the "3D-Truss-Ti" ISaF is filling the joint space automatically during self-cutting insertion. It uses the best possible material for fusion – patient's autogenous bone. All steps – insertion of implant, transportation of bone and controlled compression – are being perfomed using one inserter in one round.The ISaF (screw-cage) is designed for surgical treatment of various sacroiliac joint conditions incl. sacrolitis and sacroiliac joint disruptions.
The implant consists of two threaded parts manufactured by EBT (Electron Beam Technology) for enhanced Fusion (3D-Truss-Ti structure for "Ivy like osseointegration – L.C."). ISaF is the final result of long-term experience started in the year 2001 with IIVC.
Incorporates properties of screws;
Delivers and compacts autogenous bone around the whole implant;
Controlled distraction & compression;
Bone compacting during compression: bone flange formation for enhanced fusion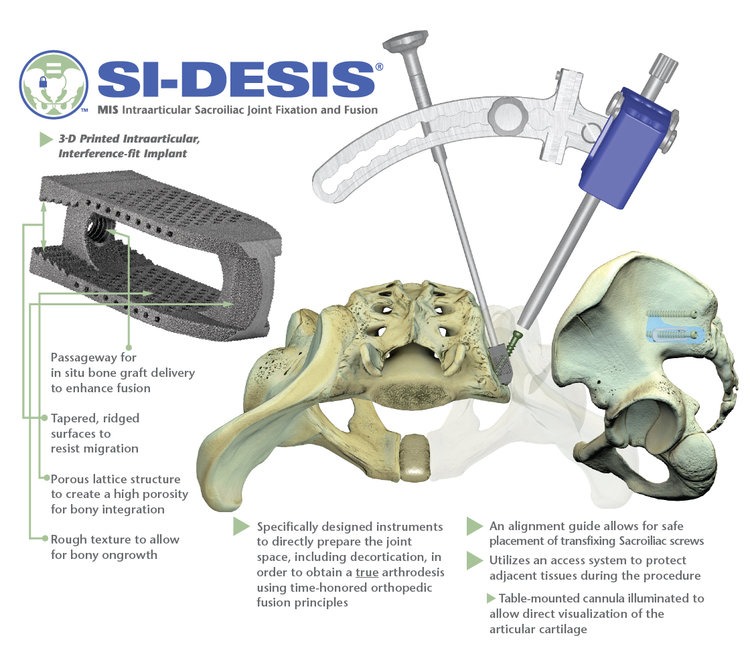 ADDITIONAL INFORMATION: