First PEEK femoral component in a primary TKA !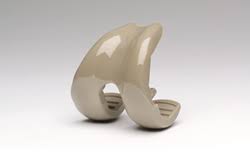 ---
A PEEK bearing surface?
Streamers… email me why this is a really good idea, or this a really bad idea. Read the best comments below.
tiger@tigerbuford.com
Tiger- PEEK does have excellent bearing qualities. Eliminates the concerns with cobalt ions. PEEK has traditionally been an expensive material compared to cobalt-chrome. But there may be two things going it its favor. One it can be injection molded. And secondly that cost of cobalt will be increases do to the utilization in many of the battery designs of electric vehicles.
But may have to re-think designs for cementless use as the porous surfaces I have seen in the past did not pose the surface roughness, to assist with fixation. Secondly, I do not recall if the interaction with PMMA is favorable or not.
From a regulatory stand point, will it require an IDE/PMA of can one get it through with a heavy weight 510k. The changes in the EU will also be an more difficult than traditional materials
Dave Kelman [ LinkedIn – https://www.linkedin.com/in/davidckelman/ ]
---
Tiger- Thanks so much for your emails and newsletters, I am an independent distributor and have a passion for the industry side of our business. I always find valuable information in your communications.Never emailed you about any stories before but you asked for opinions on this one and I got some about this one.

First saw the femur about 4 years ago at an Academy meeting and thought wow that's thinking outside the box. Having a long experience with peek products, sold Depuy/Acromed for many years, I like the material and it has proven itself over the years. My thoughts immediately were about ware and particle generation but their initial ware studies are very promising. If these studies hold true invivo and the additional clinical benefits of the peek material prove true the economics of this type of non metal knee replacement would likely spread very quickly…i don't like to think about it but an all-ploy tibia, peek femur and a poly patella would make a VERY cost effective solution.

Thanks for your continued work.

Drew Gengo [ LinkedIn – https://www.linkedin.com/in/drew-gengo-23516628/ ]

---
Maxx Orthopedics, in Partnership with Invibio Biomaterial Solutions, Announces First Primary Total Knee Arthroplasty with the PEEK-OPTIMA™ Femoral Component (press release)
Maxx Orthopedics, Inc., and Invibio Biomaterial Solutions together announced the successful study initiation and first patients to be implanted with the new, all polymer, PEEK-OPTIMA™ femoral knee component for primary total knee arthroplasty (TKA). This pre-market, global feasibility study is designed to assess the safety and efficacy of the PEEK-OPTIMA™ femoral knee component in patient candidates receiving primary TKA.
The PEEK-OPTIMA™ femoral knee component combined with the Freedom® high-flex all-polyethylene tibial component provides a modern, metal-free alternative to the standard TKA. It offers surgeons and patients a femoral component that has the potential to correct component to bone material mismatch for preservation of femoral bone density, while avoiding patient complaints of metal sensitivity and achieving increased post-operative patient outcomes. Dr. John Devine, Medical Business Director of Invibio, stated "This is an exciting landmark moment, and we will now adopt a cautiously optimistic approach and await the full results of the clinical study. The potential for superior clinical outcomes and improved patient satisfaction from a metal-free implant, together with improved health economic outcomes makes this a significant advancement in orthopedic technology."
PEEK-OPTIMA™ polymers deliver performance characteristics such as modulus and flexural strength close to that of cortical bone, contributing to bone density preservation, and radiolucent material properties that allows artifact-free imaging both during and after implantation. The polymer has proven biocompatibility and biomechanical benefits in implantable spine, trauma and other devices that provides safety, longevity and reassurance to patients and surgeons.
The PEEK-OPTIMA™ femoral component is based on Maxx Orthopedics' Freedom® Total Knee System high-flexion, bone-conserving design. "We are and have always been focused on delivering high value. We asked how we could significantly improve patient satisfaction and PEEK is potentially that solution. We are using a time-tested material in a new way to hopefully improve bone quality and overall longevity", said Ashesh Shah, CEO of Maxx Orthopedics.
Maxx Orthopedics and Invibio™ Biomaterial Solutions will be displaying PEEK-OPTIMA™ femoral component at the AAOS Annual Meeting, September 1-3, in San Diego, CA (Booth #3117).
For additional information, please visit http://www.maxxortho.com and http://www.invibio.com.
The PEEK-OPTIMA™ femoral component for primary TKA is not approved for sale in the United States or internationally.
---
About Maxx Orthopedics
Maxx Orthopedics is the manufacturer of the Freedom Knee® System, Libertas® Total Hip System and Quick Recovery Solutions (QRS®). The company develops and markets innovative orthopedic medical devices worldwide with a focus on providing state-of-the-art implants and related solutions that best restore patient mobility while accommodating lifestyle, anatomical and economic needs. Maxx Medical, Pvt. Ltd., is the parent company of Maxx Orthopedics, Inc. Find out more at http://www.maxxortho.com
About Invibio™ Biomaterial Solutions
Invibio™ Biomaterial Solutions, part of the Victrex plc group of companies, is a global leader in providing high-performance biomaterial solutions to medical device manufacturers. The company provides PEEK-OPTIMA™ polymers, advanced technical research and support and manufacturing of components for spine, trauma, and orthopedic and dental medical segments for the development of long-term implantable medical devices. Invibio's PEEK-OPTIMA™ polymers are used in approximately 13 million implanted devices worldwide. Find out more at http://www.invibio.com