List of 29 Joint Replacement Startups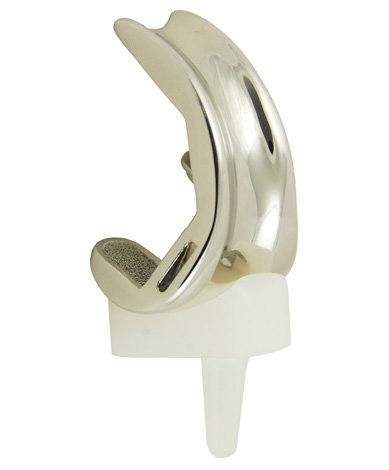 ArthroSurface (Franklin, MA) localized metal cartilage replacements for hip, knee, shoulder, and great toe, founded in 2002 when spun out of STD Med, Inc., four rounds of funding by Boston Millennia Partners http://www.arthrosurface.com
Articulinx (Cupertino, CA) polymer disc-shaped polymer inter-positional implant for finger joints to relieve OA pain, CE marked
http://www.articulinx.com/
Ascension Orthopedics, Inc. (Austin, TX) [ACQUIRED] small joint replacement implants made from proprietary Pyrocarbon, four rounds of funding since its founding in 1996, acquired by Integra LifeSciences in 2011
http://www.ascensionortho.com
Avenir Medical, Inc (Waterloo, ON, Canada) started in incubator, intelligent instrument company for total joints, integrates microelectronics and miniature optical sensors to calculate and display real time measurements of implant position and alignment, enabling surgeons to more accurately perform joint replacements http://avenirmedical.com/
Biopoly (Warsaw, IN) femoral condyle and humeral head resurfacing "inlay" devices with an HA impregnated polyethylene articular surface http://biopolyortho.com/
BodyCad (Quebec, Canada) design and development for unicompartmental knee, total knee, total hip, shoulder http://www.bodycad.com/
Cardo Medical, Inc. (Beverly Hills, CA) Cardo Medical was formed in February 2007 when it acquired the assets and operations of Accin Corporation, a product development company founded in 2005, products include reconstructive joint devices and spinal surgical devices, Align 360 Unicompartmental Knee System, Align 360 Patellofemoral System, Accin Total Hip System, Accin Bipolar Hip System, Accin Monopolar Hip System
http://www.cardomedical.com
ConforMIS (Burlington, MA) raised $50M in a Series D funding from a consortium of private equity firms and sovereign wealth funds. ConforMIS makes custom knee replacements based on the patient's CT scans that only resurface the damaged cartilage area
http://www.conformis.com/

Consensus Orthopedics (Sacramento)

fka Hayes Medical, full line of hip and knee products, modular hip product is UniSyn, CEO is Colleen Gray
http://www.hayesmed.com

Corentec Co., Ltd. (Seoul, Korea)

founded in 2000, hips, knees, spine, biologics


http://www.corentec.com/
Episurf Medical (Stockholm, Sweden) custom implants for cartilage lesions in the knee (like http://www.arthrosurface.com) except based on a patient's MRI scan and personalized http://episurf.com/
Excera Orthopedics (Solon, OH) Founded in 2009. Products: FitRite™ Hip System, designed for Asian populations, comprising three different hip stems, three acetabular cup designs and two liners; product is in final development and regulatory approval stages. Products co-developed with the Mayo Clinic. http://www.exceraortho.com/
Flex Biomedical (Madison, WI) Angel funding – raised $150K from Wisconsin's Technology Venture Fund and $835K from Wisconsin Investment Partners, the NEW Capital Fund and Marquette Golden Angels. Flex is developing a polymer-based joint lubricant, called Flex Polymer, to reduce pain and increase mobility in osteoarthritis patients. It's meant to replace hyaluronic acid injection treatments that in many cases keep pain away for six months to a year, but in some cases don't work at all. Flex Polymer is based on intellectual property licensed from Boston University. Plans to start clinicals in 2011. http://www.flexbio.com
Genovel Orthopedics, Inc. (Herndon, VA)

very little information,

HC2 Holdings

signed a research and license agreement with New York University for the development and commercialization of a new technology for osteoarthritis of the knee, probably a new total knee replacement in development because Peter Walker, PhD is involved.

No website

Hip Innovation Technologies (

Boca Raton, FL)

formed in 2011 to solve common total hip complications of dislocation, instability, component placement and edge loading, US clinicals to start in 2017 http://hipinnovationtechnology.com/

Knee Creations, LLC. (New York)

[ACQUIRED] provider of an innovative minimally invasive surgical solution to mid-to-late stage knee osteoarthritis pain; founded in 2007 by Viscogliosi Brothers, $6M in Series A in 2009, acquired by Zimmer 2013 http://kneecreations.com/
LinkBio (Rockaway, NJ) total joint started spun off from WaldemarLINK in Germany, hips, knees, and segmental replacements for femur with joints built in. https://www.linkorthopaedics.com/us/
OrthAlign (Irvine, CA) founded in 2008, raised $7.2M in Series A from Research Corporation Technologies and Okapi Venture Capital, LLC. OrthoAlign is developing a smaller and portable navigation system for Total Knee Arthroplasty (TKA) where spatial guidance can be attached to existing instrumentation, awaiting FDA clearance for its palm-size disposable device that attaches to instruments used in knee replacements to help surgeons do more precise cutting of the bone to improve the fit with the joint replacement
http://orth-align.com
OsteoRemedies (Memphis, TN) Founded in September, 2013. First launch March 2014: REMEDY® Spacers for 2-stage infection revision hip and knee arthroplasty and UNITE® Antibiotic Cement. Spacers pre-made from PMMA and antibiotics are modular and totally interchangeable for optimal sizing. Launched a Modular Shoulder Spacer at AAOS in 2016. The most recent product available, OSTEOBOOST® Resorbable Bead Kit, contains a 100% synthetic bone void filler material with a convenience kit to create 3 easy-to-prepare bead sizes. The proprietary bone void material is provided to fill voids and gaps not intrinsic to the stability of the bone structure through a biocompatible, neutral pH, tri-phasic formable material. http://www.osteoremedies.com/
Maxx Medical (Philadelphia) Cost-effective Posterior Stabilized Total Knee designed for high flexion for India and other asian markets. Ashesh Shah is President. http://www.maxxmed.com/us/index.html

Moirai Orthopaedics ( Metairie, LA)

Pyrocarbon joint replacement joint company founded by Stephen Cook. This is essentially a Ascension Orthopedics technology re-focused on the ArthroSurface business area of knees. http://moiraiorthopaedics.com/
NextStep Arthropedix (Akron, OH) disruptive startup focused on 3D printing for total joints. http://www.theken.us/

New Era Orthopaedics (Hummelstown, PA)

basic hip and knee implants http://www.neweraortho.com/
ReJoint (Milan, Italy) Rejoint is the first startup to bring together all the latest technologies for a better TKA product and service. Artificial Intelligence – REJOINT has partnered with

ENHATCH

to take advantage of their

Fit2Kit

system of artificial intelligence tools that allow algorithms to optimize the size, placement and shape of the implant. This feeds into the surgical navigation and clinical plan and reduces the instrumentation down to a mayo stand. All completed in the cloud in seconds. 3D Printing – REJOINT has also taken advantage of 3D Printing of implants including CoCr for the femoral component, Wearables – REJOINT will also take advantage of wearables to track clinical performance. https://www.rejoint.life
Responsive Orthopedics (Minneapolis)

[ACQUIRED]

Doug Kohrs and physician partners self-funded startup with $10M with the intent of offering low-cost systems for hip and knee replacements. Medtronic acquired in 2016 for the business model http://www.responsiveknee.com/
RevOrtho (Great Neck, New York) New resurfacing hip design with lateral fixation, called a Modular Hip Resurfacing. http://www.revortho.com/
Surgtech Inc (Cleveland, OH) Chinese owned startup bases in US with generic hip and knee systems http://www.surgtech-med.com
Total Joint Orthopedics (Salt Lake City) stealth mode, R&D group in Austin, founder is Dr. Aaron Hofmann. Products: Klassic Blade Femoral System, Klassic HD® Hip for hemiarthroplasty, Klassic® BiPolar System and Klassic® Knee. Streamlined instrumentation system only three trays per surgery. Donates one implant to Operation Walk USA for every ten it sells. http://tjoinc.com
VOT Solutions (Warsaw, IN) founded in 2005 by Dr. Ron Clark, an orthopedic surgeon in Indiana, focus is development of an arthroscopically placed partial knee implant, launched the first arthroscopically assisted uni-knee in December of 2008, called the VOT Solo Partial Knee
(http://www.votechnology.com/Index.cfm) in Warsaw IN.