Is lumbar total disc replacement becoming standard of care for patients with DDD?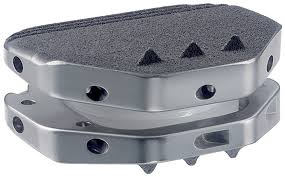 POWERFUL TOTAL DISC REPLACEMENT DATA PRESENTED AT NASS (Orthopedics This Week)
Three new, five-year follow-up studies are giving powerful weight to lumbar total disc replacement (TDR) as a standard of care for patients with degenerative disc disease (DDD). The studies and their data were presented from NASS' (North American Spine Society) podium during the society's October 2017 Annual Meeting in Orlando, Florida.
#1
The first study, sponsored by Aesculap Implant Systems, LLC, of Center Valley, Pennsylvania, presented five-year outcome data study for the activL Artificial Disc Replacement.
According to the company: "The five-year outcomes of the activL Artificial Disc Investigational Device Exemption (IDE) Study, a 7-Year Multi-Center, Randomized Controlled Trial (RCT) which compares outcomes of the activL Artificial Disc and previous generation disc replacements such as ProDisc-L (DePuy Synthes) were presented by one of the co-investigators of the study, Jim Yue, M.D. (Quinnipiac University, New Haven, Connecticut)."
"The data demonstrates that while both the activL device and the control were effective at addressing patient pain and disability at five years, the activL device was more likely to preserve segmental range of motion at five years (p = 0.03) and had a higher safety profile (p < 0.001)."
 #2
The second study was presented by Jack Zigler, M.D. (Texas Back Institute). In his five-year meta-analysis of randomized control trials comparing lumbar disc replacement to fusion, he reported: "The meta-analysis demonstrated that TDR was superior to fusion at addressing patient disability, reoperation and satisfaction at five years (p=0.05, p=0.002, p=0.01, respectively)."
Dr. Zigler told OTW, "Spine surgeons should now feel even more comfortable about recommending lumbar arthroplasty to their patients instead of fusion."
"This meta-analysis, now following prospectively randomized patients out to five years, adds another, deeper layer of statistical strength to the multicenter results of several individual Level I IDE studies. The maintained clinical outcome improvements in these ADR patients, coupled with a lower complication rates and a lower reoperation rate, now clearly highlight lumbar disc replacement as an important option that should be made available to appropriately selected patients, with confidence that these patients can expect improved clinical and radiographic outcomes that are durable."
#3
The third study, this one from Richard Guyer, M.D. (Texas Back Institute, Plano, Texas) was one of the 21 papers nominated for Best Paper at NASS.
This study detailed "… the outcomes of an ad hoc analysis from the activL IDE study looking at the adjacent segment disease (ASD) outcomes between disc replacement systems at five years."
"From the analysis conducted by an independent third party, Dr. Guyer presented a 9% ASD rate for the activL device and a 19% rate for the control. The investigators are currently conducting additional data analysis to compare these TDR device outcomes to previously reported fusion ASD rates. Dr. Guyer also presented evidence of a correlation between the protective effect that range of motion has on ASD."