Disruptive Trend in Orthopedics – Mass Customization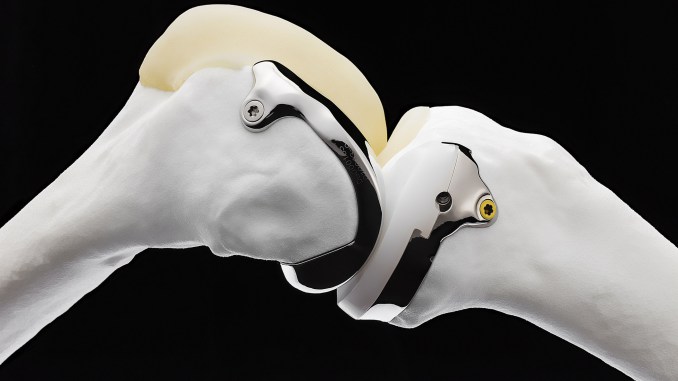 Joint arthroplasty has become increasingly accurate and reproducible over the last 10 years with better planning and instrumentation. However, the total knee replacement and unicompartmental knee replacement procedures are still error-prone. The surgeon must possess a high level of technical skill and experience in making perfect bone cuts for stability, ligament balancing, rotational alignment and range-of-motion. The bone cuts in total knee procedures are a three dimensional puzzle. The surgeon has to rely on exposed boney landmarks during the case to position his instruments. As the incision gets smaller, positioning becomes harder.
Then, even if the surgeon makes perfect bone cuts, he only has access to a few pre-determined implant sizes for the entire population of patients—typically sizes 1 through 8 or so. Just as clothes in a retail store don't fit everyone perfectly, pre-manufactured implant sizes don't fit every patient. Millions of patients receive a joint replacement each year from one of the canned sizes "on the shelf." I have observed many joint replacement surgeries. When the surgeon starts fitting the trials, you often hear: "He looks like a 5 to me. Do you think he could take a 6?" Many people fit different size offerings; even the matched sizes don't have the proper medial-lateral anatomic ratios or anterior-posterior anatomic ratios for a given patient. Bones vary just like the rest of the person.
Mass Customization is the solution.
Today, mass customization technology is based on 3D imaging (CT or MRI), CAD (computer-aided-design) and CAM (computer-aided manufacturing) systems or 3D-printing.  These systems produce personalized implants, or personalized fits of an implant for an individual patient.  The result is a manufacturing run of "one."
In the quest for better "fit" and better outcomes, patient-matched custom implants are finally coming of age. The personalized implant theory states that patients get a better fitting implant that results in better function, a longer lasting implant, and better bone stock preservation for better revision in the future.
The surgeons love the technology and drive the trend, and hospitals can use it as a marketing tool to "one up" the other hospitals across town. But, there are some downsides. The custom/personalization procedure costs more. The implant is more expensive and the patient must go through additional CT scans or MRIs. Because of the expense and complexity, the technology cannot transfer to emerging markets. Then, there are the long-term results. Some early total joint studies show improved outcomes in terms of better-aligned knees, but research requires the 15 year long-term outlook for proof of long-term results.
Let's break down the various technologies into categories. We believe there are five major categories of total joint customization. All technologies fall into one of these areas.
The 5 Major Categories of Total Joint Customization Technologies
Pure Custom implants, based on MRIs or CT scans, are used to manufacture custom implants. Most big Orthos offer custom implants, but they usually offer these for the more challenging anatomy cases or severe bone loss.
Gender specific knees. Zimmer offered male and female versions in the late 2000's, but this trend faded as outcomes for the female design products did not improve. Zimmer markets the

Persona

knee today. This trend ran its course.

Custom disposable instrumentation. MRIs or CTs are

 

used to create custom instruments, take the guess work out of generic cutting guides. This trend is the most common today lead by companies such as

Materialise

.
Custom bone prep with robotic-guided instrumentation. In surgery, a robot makes the perfect bone cuts based on MRI or Ct data. Stryker/Stanmore is the only company using robots so far.
3D Printing of implants. This trend is emerging rapidly as 3D printers (also known as additive manufacturing) can now produce implant materials in high-quality titanium, CoCr, ceramics and PEEK. These materials are technically feasible and the regulatory agencies have created pathways.

 

In this area, dental labs and hearing aid manufacturers lead the way. The FDA is providing early

guidance

.
The big 5 Orthos largely lead the customization trend. Below,  I list the manufacturers that offer customization, or personalization, and an overview of their products.
11 manufacturers that offer customization or personalization today
ConforMIS is an entire company based on custom/personalized approach. ConforMIS uses:
iUni-G2 with implants, iView patient-specific imaging data and iJig patient-specific instrumentation; the iTotal CR Knee Replacement, iDuo G2 next-generation bicompartmental knee resurfacing system; and the iTotal G2 Knee Replacement system.
Biomet markets Signature Personalized Patient Care System based on a 3D MRI to create external instrumentation without intramedullary reaming.
J&J Synthes DePuy markets TruMatch Personalized Solutions based on software customized to specific anatomy and instrumented for specific patients. This enables the surgeons to implant the SIGMA total knee with less steps.
Kinamed has been pioneering the use of CAD/CAM & CIM since the 1980's for THR, TKR, and several other musculoskeletal challenges including; custom total femurs, and custom hemi-pelvis devices. Today, Kinamed creates patient specific PFJ implants.
MedActa is a Swiss company that markets MyKnee instrumentation based on MRIs and x-rays for use with its GMK Total Knee System.
Smith & Nephew markets Visionaire Patient Matched instrumentation, based on MRIs and x-rays, to create custom instrumentation for the company's total knee implants:

 

Genesis, Legion and Journey.
Stanmore is a UK company that markets the Savile Row unicompartmental knee based on CT scans. Stanmore builds a patient-specific implant and uses the same CT data to guide an intra-operative robot to make the bone cuts.
Stryker markets Triathlon Custom Fit Knee with ShapeMatch Technology based on MRI data to determine the best implant size. They create custom disposable instrument guides for each patient.
Wright markets Prophecy Pre-Operative Navigation Guides based on either MRIs or CT scans for custom instrumentation for the INBONE total ankle replacements.
MicroPort Orthopedics (formerly Wright Medical's hip/knee business) markets the Prophecy Pre-Operative Navigation Guides called Evolution for custom instrumentation for the company's total knee systems.
Zimmer markets Patient Specific instruments based on MRIs to create disposable custom cutting guides for the company's total knee systems.
What is your company doing to compete in a customized procedure world?