Disruptive Trend in Orthopedics – Medical Tourism Reversal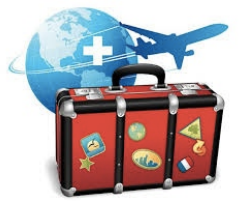 This year, hundreds of thousands of Americans will travel outside the United States for health care. The rising cost of medical treatment in the U.S. sends Americans abroad in record numbers. Around 500,000 Americans leave the country each year for some sort of elective medical procedure, including Orthopedic procedures. Medical tourism originated in the 1990's with cosmetic procedures. Today, a large percentage of patients travel for common Orthopedic procedures—total hips, total knees, spine fusions, etc. There is no rule of thumb, but an OUS total joint procedure typically costs the patient 25% less than in the US.
This trend is driven by economics, demographics, globalization and technology, and cannot be ignored. The huge scale and logistics become as simple as calling your travel agent. If you don't believe it, just take a look at HWBazaar for an example. Choose a procedure, choose a country, and call to book your trip. One, two, three.
Want a state-of-the-art spine procedure not approved in the US.? Go to the Cayman Islands and have a US surgeons perform your surgery there – Spine.ky.
Past trends have now flipped. Historically, wealthy people in third world countries would travel to the major hospitals in developed countries. Now, people in developed countries travel to emerging-world countries for the cost benefits. You see, the internet has eliminated the friction in the system with international surgeon training and a more "global" patient.
Case Study: Sue goes to Belgium?
Sue's real-life story illustrates today's reversed Medical Tourism patient. Sue Sorey, a Baton Rouge resident, is a typical patient who needed a total hip. She had advanced OA in her right hip that robbed her quality of life. Unfortunately, Sue did not have health insurance. Sue and her husband researched operation costs from all of the local hospitals. They received estimates from $60,000 to $100,000 out-of-pocket. They were devastated.
Then, they heard about Medical Tourism from a friend. A few weeks later, Sue Sorey's hip resurfacing surgery took place in Ghent, Belgium. The couple spent $25,000 total, including the surgical procedure and 13 days of lodging and meals in Belgium. Sue said that she had immediate pain relief. Mission accomplished.
There are more benefits than the cost. The cost-saving opportunities initially drive patients to look outside the US, but they are commonly surprised by the other unexpected benefits they discover over the course of their medical tourism experience.
Patient Benefits from Medical Tourism
A 75% cost savings on the procedure.

Experienced surgeons (many that are US-trained).


The same implant, instrument and imaging technology available in the US.

Personal care and attention that exceeds US standards.


Luxury accommodations.
Case Study: Wooridul Spine Hospital
The Wooridul Spine Hospital in South Korea is a typical hospital catering to medical tourism. Wooridul offers perks seldom experienced in the US: a car, an English-speaking nurse to greet the patients, hospital rooms that look more like luxury hotel accommodations, great care, and proximity to tourist attractions and shopping during the rehab process. In 2008, Wooridul Spine Hospital brought in 1,000 foreign patients (1/3 US citizens) and millions in revenue.
How can U.S. hospitals compete? U.S. hospitals feel the pressure from medical tourism, in some cases offering to match foreign pricing to encourage patients to stay local.
The most popular destinations for orthopedic patients are India, Singapore, Mexico, Thailand, Columbia, Costa Rica, Belgium, and Turkey. But now, over 50 countries identify medical tourism as a national industry.
The Medical Tourism trend is driven by economics, demographics, globalization and technology. The trend's scale is huge; third party agents facilitate the trend's logistics. The baby-boomer rise helps to throw fuel on this fire. 13,000 people a day hit their 60th birthday in the US. Many of these baby boomers are looking for high quality medical procedures at affordable prices.
Telemedicine also enables medical tourism. As the technology barriers have broken down, patients and medical staff can exchange medical information and discuss pre-operative planning protocols and concerns before and after surgery. The tourism industry is also getting on board. Travel agencies, airlines and hotels realize that this is a business opportunity growing to their advantage. Medical tourism is not going away and has grown much since Thomas L. Friedman explained this trend in his book, The World is Flat.
Amazingly, an entire annual meeting dedicates itself to Medical Tourism: The World Medical Tourism and Global Healthcare Congress. The Medical Tourism Association also develops Certification Programs.
What is your company doing to tap into the Medical Tourism Reversal trend?