Stryker launches expensive Mako robot for knee replacement in cost-conscious era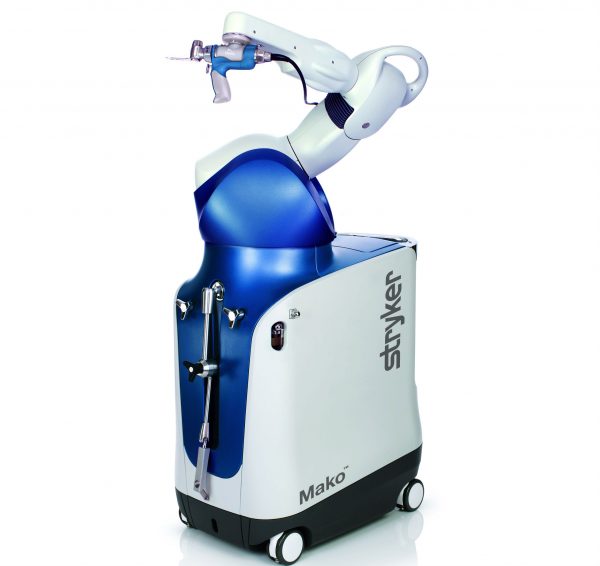 Stryker launches expensive Mako robot for knee replacement in cost-conscious era (MedCityNews)
As value-based care and bundled payments begin to take hold in the orthopedics industry and healthcare overall, Kalamazoo, Michigan-based Stryker is doing something counterintuitive.
It is launching an expensive piece of equipment. Coinciding with the first day of the annual meeting of the American Academy of Orthopaedics Surgeons (AAOS) in San Diego, the orthopedics company announced Tuesday that the MAKO robot is now officially launched in the U.S. to perform total knee replacements. (MAKO has been available to perform total hip knee replacements and partial knees in the U.S. up until now.)
Why introduce a reportedly million-dollar piece of new technology at a time when hospitals and orthopedics practices are racing to reduce the cost of hip and knee replacements?
In a phone interview, Stuart Simpson, vice president and general manager, Stryker, shared his confidence that the Mako robot with the total knee application would have both clinical and economic benefits that hospitals would find compelling.
To step back a bit, Stryker made a bold acquisition of Mako for nearly $1.65 billion in 2013. Bold because none of the larger ortho players had envisioned joint replacement procedures to be done by a robot. The company has also bucked the consolidation trend in the marketplace – think Zimmer buying Biomet; Wright Medical buying Tornier – although there leaked reports showed that it was exploring a merger with Smith & Nephew. The bet was new, innovative technology backed by proper clinical and economic validation would win the future.
Mako's total knee application — where the Mako robot would implant Stryker's Triathlon knee — won FDA approval back in August 2015. But Kevin Lobo, the company's CEO made the rather atypical decision to delay a wide sales roll out nationwide until 2017. [ I reported on that decision for a different publication last year].
In that two years, Mako's total knee application has been used on a limited basis in 65 hospitals in the U.S., U.K., Australia and Germany, Simpson said and more than 1,400 cases have been performed.
Now it's ready for full launch and the hope is that the clinical benefits noticed in the partial knee application by using the Mako robot will extend to the total knee as well.
Simpson said that the company used the commercial payer databases to do a study on how Mako's partial knee application stacks up against partial knees performed manually without the use of a robot.
Stuart Simpson, VP, and general manager, Stryker "What we have seen in two years, you're seeing revision rates of partial knees with Mako of about half a percent versus revision rates of nonMako procedures of about 3.5 percent," Simpson said. "That is a big, significant clinical quality improvement."
There is a clear economic benefit as well when Mako's partial knee applications were studied, according to Simpson.
"We have seen the 30-day complication rate reduced by 36 percent with Mako versus nonMako. And we have seen the cost of complications and readmissions for Mako cases 66% lower than nonMako cases in the 90-day period," he said. "And that's even accounting for the additional cost of using Mako."
Simpson declined to comment on the price of Mako though it is reportedly upwards of $1 million, only noting that there are a variety of financing options that are available to hospitals who need only to say that they are interested in one.
"Once we've established that physicians want a Mako, we can typically find a way that works for hospitals given all the different financial strategies that these hospitals tend to have," he said.
One small survey of orthopedic surgeons undertaken by RBC Capital Markets seems to suggest that Stryker is poised to take market share away from the likes of Zimmer Biomet and Johnson & Johson Depuy partly because of high interest in robotics.
"U.S. orthopedic surgeons expect strong demand for new robotics systems and believe that [Stryker] will be the leader in the U.S. robotic hip/knee market," according to a research note published Monday by Brandon Henry, an analyst with RBC Capital Markets. "Surgeons expect Stryker's Mako to capture ~90% of the U.S. robotic hip/knee market. Separately, surgeons expect strong ~82% and ~56% year-on-year growth in their robotic hip/knee procedures in 2017 and 2018, respectively. Surgeons expect the fastest growth in robotic total and partial knees."
All of which should be sweet music to Simpson, Lobo, and the Stryker sales team that have waited to sell the device far and wide.
Photo: Stryker 
Correction: An earlier version of the story incorrecrtly stated that the total knee application on Mako was available in Japan. It is available in U.S., U.K.., Australia and Germany