FDA clears NuVasive's CoRoent Interbody System for 4 levels!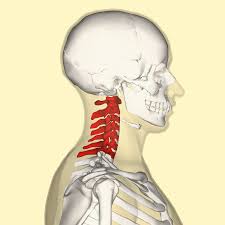 NUVASIVE GETS FIRST FOUR-LEVEL CERVICAL FUSION CLEARANCE (Orthopedics This Week)
NuVasive, Inc. announced on March 29, 2017, that it is the first company to receive clearance from the FDA for intervertebral body fusion for up to four contiguous levels in the cervical spine.
Due to cervical radiculopathy and myelopathy secondary to cervical degenerative discs in adult patients, more than 200,000 cervical surgical procedures are performed in the U.S. each year, according to the American Association of Neurological Surgeons.
The FDA clearance is for the company's CoRoent Small Interbody System, which was cleared for one level from C2-T1 in September 2016.
The company says the system is an interbody cage manufactured from PEEK-Optima [polyether ether ketone] that provides "stabilization of the spinal motion segment while fusion takes place. A hollow core allows for packing of autogenous and/or allogeneic bone graft comprised of cancellous, cortical, and/or corticocancellous bone graft material to help promote a solid fusion. Rows of teeth on the surface of each end of the device serve to grip the adjacent vertebrae to resist migration and expulsion of the device. The device includes marker pins composed of titanium alloy or tantalum."
Paul McAfee, M.D., MBA, director of Towson Orthopaedic Associates' Scoliosis and Spine Center of Maryland, told OTW, "This is very significant as the majority of cervical spine problems are more than single level disease. The approval of cervical fusion using multilevel interbody fusion cages is a great symbol of NuVasive's responsiveness to surgeons and patients."
He says the technology is so good that it can achieve individual vertebral level success in ways that were not previously possible. "We used to have to supplement three and four level cervical problems with posterior lateral mass instrumentation (simultaneous Front and Back Surgery)—obviating a secondary posterior surgery."
Jason Hannon, NuVasive's president and chief operating officer, said the ability to treat multi-level cervical disc degeneration in patients displaying cervical radiculopathy and myelopathy is a "meaningful advancement for spine surgeons. This first and only clearance is an example of NuVasive's commitment to defining the components necessary to properly address an unmet clinical need and expand our presence and competitive positioning in the cervical market."
The implants included in the CoRoent Small Interbody System clearance are CoRoent Small (S), CoRoent Small Lordotic (SL), CoRoent Small Lordotic Plus (SLP), CoRoent Small Hyperlordotic (SHL), and CoRoent Small Contoured (SC).