Study: Metaphyseal sleeves improve early results in revision total knee replacement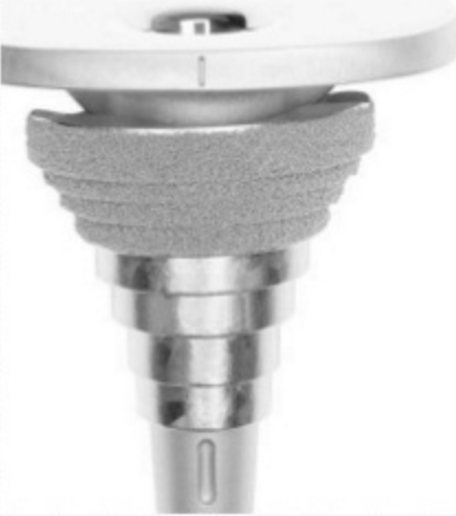 MEGA MAYO STUDY FOR METAPHYSEAL SLEEVES IN REVISION TKA (Orthopedics This Week)
Mayo Clinic researchers have completed a 280 patient/393 metaphyseal sleeve study—the largest to date—of revision total knee arthroplasty (TKA). Their work, "Survivorship of Metaphyseal Sleeves in Revision Total Knee Arthroplasty," (http://www.arthroplastyjournal.org/article/S0883-5403(16)30874-9/abstract) was published in May 2017 edition of The Journal of Arthroplasty.
Mark Pagnano, M.D., chair of the Department of Orthopedic Surgery at Mayo Clinic and a co-author on the study, commented to OTW, "This is the largest study to date to report the results of metaphyseal sleeves used in revision total knee replacement. The vast majority of patients in this series had moderate bone loss problems and in only a few cases were the indications for use stretched to include patients with very severe Type 3 bone defects."
He and his co-authors wrote, "Metaphyseal fixation has promising early results in providing component stability and fixation in revision total knee arthroplasty (TKA). However, there are limited studies on midterm results of metaphyseal sleeves…"
"Two hundred eighty patients with 393 metaphyseal sleeves (144 femoral, 249 tibial) implanted during revision TKA from 2006-2014 were reviewed. Sleeves were most commonly cemented (55% femoral, 72% tibial). Mean follow-up was 3 years, mean age was 66 years, and mean body mass index was 34 kg/m2. Indications for revision TKA included 2-stage reimplantation for deep infection (37%), aseptic loosening of the tibia (14%), femur (12%), or both components (9%), and instability (14%).
"There was a 12% rate of perioperative complications, most commonly intraoperative fracture (6.5%). Eight sleeves (2.5%) required removal: 6 (2%) during component resection for deep infection (all were well-fixed at removal) as well as 1 (0.8%) femoral sleeve and 1 (0.8%) tibial sleeve for aseptic loosening. Five-year survivorship free of revision for aseptic loosening was 96% and 99.5% for femoral and tibial sleeves, respectively…"
Dr. Pagnano told OTW, "These integrated metaphyseal sleeves proved reliable, reproducible and durable at intermediate-term follow-up when used to treat moderate bone defects involving the tibia or the femur during revision total knee replacement."
"The moderate rate of intraoperative bone fracture points to the need for care during insertion as the tapered, wedge shape of the sleeves can cause fracture of compromised bone particularly during final impaction of the implant."
"Integrated metaphyseal sleeves are a straightforward, efficient and effective way to deal with many bone defects at the time of revision total knee replacement. Some of the most severe bone loss problems however may require other techniques such as porous metaphyseal cones."