The 1st "augmented-reality" spine surgeries are carried out by Israeli startup Augmedics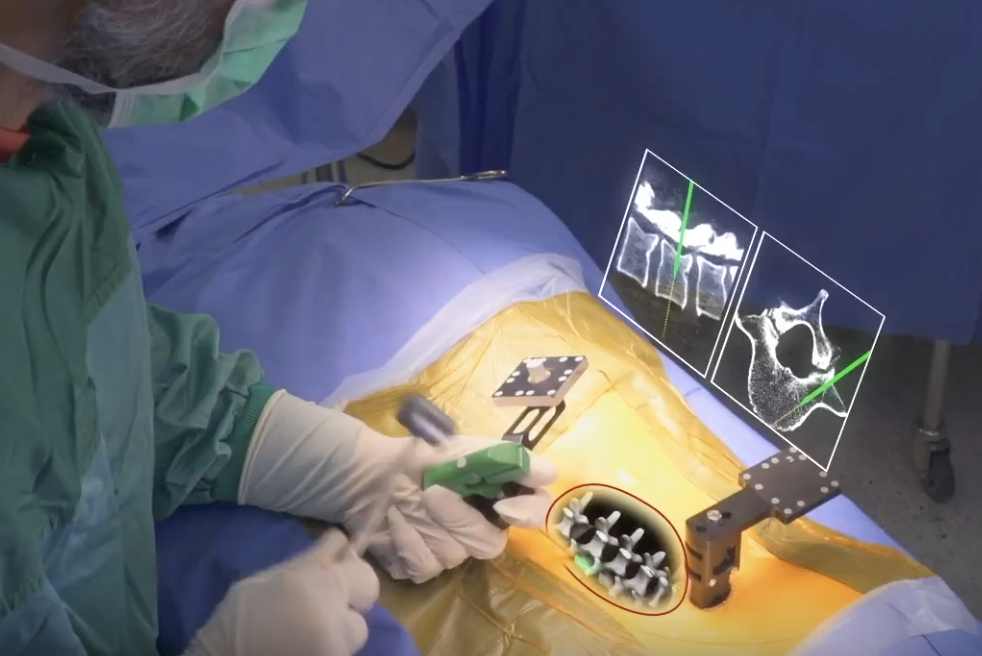 AUGMEDICS BEGINS SPINE NAVIGATION SYSTEM HUMAN TRIAL (Orthopedic This Week)
Yokneam, Israel-based Augmedics has begun a first-in-human clinical trial of its xvision-spine (XVS) augmented-reality surgical navigation system at Sheba Tel Hashomer Medical Center and Asaf Harofeh Medical Center, in Israel. [ Link to Sheba Medical Center ]
Co-Principal Investigators Dr. Ran Harel and Prof. Yigal Mirovsky will lead the open label, prospective, single arm, multi-center study whose goal is to evaluate the safety, performance, accuracy and usability of XVS during spine fusion procedures involving pedicle screw placement.
The study, said Augmedics, will enroll between 8 and 22 subjects—depending on the number of screws placed in each subject. The study investigators plan to place a minimum of 85 screws with xvision-spine. The first human case was completed August 5 and the company expects that the study investigators will be able reach full enrollment in approximately three months.
Investigators will assess the accuracy of xvision-spine pedicle screw placement by using two independent, experienced radiologists using the Gertzbein score (GS). They will also evaluate the system with a User Experience Questionnaire (UEQ), which each surgeon will complete at the end of each procedure.
The xvision-spine system, said the company, "Is an augmented reality surgical navigation system designed to give surgeons 'X-ray vision' during complex procedures. With XVS, surgeons can see and navigate inside a patient's body through skin and tissue, which may lead to easier, faster and safer surgeries."
"The XVS system is comprised of a transparent near-eye-display headset which has all elements of traditional navigation systems. It accurately determines the position of surgical tools, in real-time, and superimposes them on patient's CT data. The navigation data is then projected onto the surgeons' retina using the transparent near-eye-display headset, allowing surgeons to simultaneously look at their patient and see the navigation data without averting their eyes to a remote screen."
Nissan Elimelech, Augmedics' CEO, told OTW, "It was a process that included thorough V&V (Electrical safety and EMC testing, cleaning and sterilization, bench tests, etc.). We had few challenges we had to solve with the sterilization method of the reflective markers, but we overcame it eventually. In addition, we conducted hundreds of tests to ensure highest level of accuracy of our single-camera positioning tracker. We feel huge responsibility for patient care when we handed out the system for the first surgery, and we are confident we will have great results from this study."
"In a year from now we plan to have dozens of systems installed and working in hospitals within the U.S., after receiving FDA clearance of course. In addition, strategic partnerships are also our main goal and we hope that in a year from now we will have a solid partnership with a key player who will distribute the xvision around the world."