New Ortho startup uses AI to predict instrument use based on past surgeon behavior
Philadelphia operating room software startup raises $4.3M, hires MapQuest co-founder (Philadelphia Business Journal)
Website – https://www.ortelligence.com/
The world of orthopedic surgery is complex. Beyond the usual challenges of operating on the human body, orthopedic surgical teams must also navigate hundreds, and sometimes thousands, of screws, plates and drill bits as they rebuild broken bones and replace knees.
A new startup, founded by two local orthopedic trauma surgeons and a veteran of the medical device industry, is aiming to simplify how those operating rooms tick — and just raised $4.3 million from angel investors to do it.
Chester-based ORtelligence's platform is designed to use artificial intelligence technologies to identify the exact tools and parts a surgeon needs during a procedure, based on past surgeries, and help the surgical techs and device representatives find and prepare them. It has also built a virtual representative option that uses image recognition and natural language processing to help the surgical team work with devices and parts. It then connects the team with a device representative virtually.
"What we're trying to do is incorporate technology, with humans in the loop, to provide a tool that helps surgical care teams deliver better care more efficiently," CEO and co-founder Tim Donnelly said.
He formed the company with Dr. Derek Donegan, an assistant professor of orthopedic surgery at the University of Pennsylvania's Perelman School of Medicine, and Dr. James Krieg, director of orthopedic trauma and professor of orthopedic surgery at Thomas Jefferson University's Rothman Institute.
Donnelly and Donegan are longtime friends, going back to their freshman year at Malvern Prep in the early 1990s.
The two were talking about building a consulting business in the medical device world when Donegan, who was in the midst of his MBA program at Temple University, suggested they dive into the software instead to help improve orthopedic operating rooms. Donnelly, while still on a phone call with Donegan, did a quick test and asked iPhone's Siri a specific question about which size drill bit was needed for a certain type of screw used in medical devices. When Siri pulled up the exact manufacturers webpage that had the answer, he knew enough underlying technology existed to support their idea.
"I was standing in my driveway when I said to [Donegan,] 'Hold on, it works. I think we can build this,'" Donnelly said.
That was a Friday. By Sunday morning, they had looped in Krieg, a fellow lacrosse dad with Donnelly, and he signed on right away. They soon tapped London-based Simon Greenman, co-founder of MapQuest, to step in as chief technology officer and head of artificial intelligence. Three other product-focused team members work remotely in the Philadelphia area, and four developers and an offshore project manager are based in India. Another small Poland-based team is also developing the company's image recognition software.
RECOMMENDED
The company was self-funded at first, but recently raised $4.3 million from angel investors in the health care and software industries, including Dr. Anthony Coletta, former CEO of Tandigm Health and president of facilitated health networks at Independence Blue Cross' facilitated. The new funding will be used to further develop the platform and ramp up sales and marketing.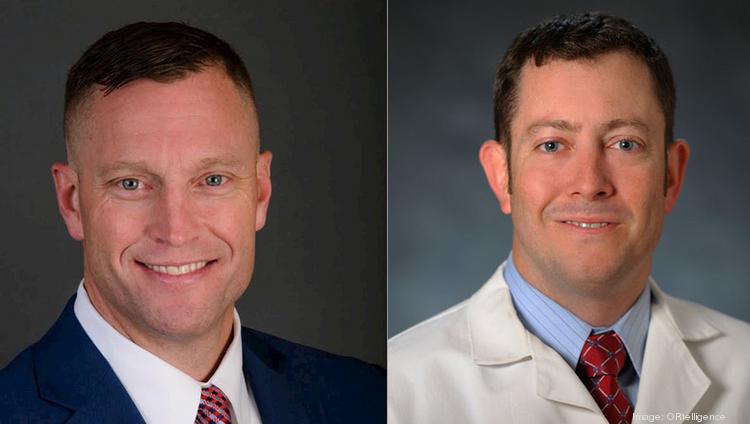 ORtelligence's software is currently being used by one health system, although Donnelly said he couldn't disclose the name. The company is talking with two other systems in the Mid-Atlantic region, he added, and also exploring partnerships with medical device companies.
While other tech products aimed at the operating room are designed for surgeons or hospital administrators, ORtelligence's founders wanted to make a product for "the people who actually make all the work happen," Donnelly said, like scrub techs, nurses and instrument technicians. Those surgical team members may be among the lowest paid in the OR, he said, but they're often in charge of overseeing five times as many individual parts and instruments than surgeons or device reps.
"We built this platform to help those people do their jobs more efficiently because we now give them immediate access to the resources they need," he said.
To Donegan, it's like a NASCAR pit crew. A driver is only as good as the team that keeps them on the road.
"If the pit crew is not functioning at the highest possible level, then that's going to prevent the driver from functioning at their highest level possible," he said.
In an OR, efficiency also equals cost savings, Donnelly said. Instead of needing to process and sterilize the upwards of 450 instruments that are pulled for an ankle repair surgery, ORtelligence is designed to narrow the selection down to just the 20 instruments the specific surgeon uses most often during ankle repairs, for example. Fewer instruments means fewer risks when it comes to infections or litigation, and lower costs overall. That's especially important when surgery departments represent some of the largest revenue sources for hospitals, Donnelly said, as well as the highest cost centers.
"Every part of the process that we touch and we provide efficiency is an area of improvement for the facilities in which we operate," he said.