Insert pedicle screws more precisely and safely without a robot or navigation system? Which are the alternatives? (SMG)
Precision, speed, and safety are principles when placing pedicle screws in a spine. Recently, robotics and high-tech imaging solutions have appeared but are a significant investment. There are many countries and hospitals where it is not feasible yet. With time and lower prices, robotics and imaging technology will become more popular. But today, it is only available to those who can afford these investments.
However, today we want you to know other options that are also effective.
Which are the 5 alternatives?
---
1.- PediGuard® (SpineGuard)
It is the world's first handheld device with the ability to alert spine surgeons of a potential breach during pedicle screw placement. It increases safety in any spinal procedure as minimally invasive fusion cases, such as TLIF.PediGuard probes, with the DSG Technology, have assisted spine surgeons in accurately placing over 330,000 pedicle screws worldwide.
SpineGuard is an innovative French medical company dedicated to the deployment and adoption of DSG® (Dynamic Surgical Guidance). DSG® is a powerful radiation-free real-time sensing technology platform that spans a broad spectrum of skeletal applications from bone drilling instruments to the automated placement of bone implants. https://www.spineguard.com
What is the DSG Technology?
The DSG Technology is based on the principle that the electrical conductivity of tissue varies by the type of tissue.
Electrical conductivity is the property of a material to conduct an electrical current:
Cortical bone has low conductivity
Cancellous bone has medium conductivity
Periosteum and blood have high conductivity
Clinical Research validates PediGuard probes in spine surgery
The PediGuard probes have been used in surgeries for all kinds of patients, from pediatric deformity corrections to adults in degenerative diseases requiring internal fixation. With mounting clinical evidence (20 major Peer-Reviewed publications: https://www.spineguard.com/dynamic-surgical-guidance-technology/) confirming its efficacy, PediGuard devices are becoming a compelling answer to the clinical needs associated with safe and accurate pedicle screw placement.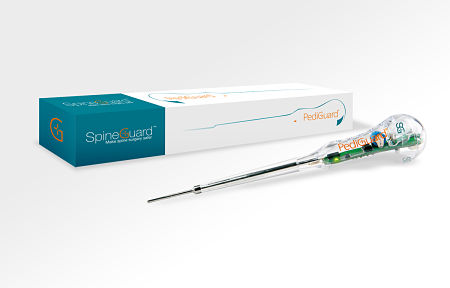 ---
2 – The Waypoint smart bone awl
A fully disposable, single-use pedicle probe, Waypoint GPS has been designed for use during pedicle screw pilot hole drilling.
It provides real-time visual feedback to physicians regarding the cutting-edge location of the probe.
This helps physicians identify the probe's location in the pedicle and reduces the use of radiation to avoid cortical breaches during traditional surgery.
Using proprietary colour sensing technology, the system provides information that is required for determining the difference between cancellous and cortical bone, helping to prevent cortical breaches.
The technology wirelessly displays real-time visual feedback on an app-based operating system.
The feedback indicates a colour change at the tip of the probe, which can be due to contact of the tip with soft tissues and possible vertebral cortex perforation.
The company stated that the Waypoint GPS looks, feels and acts like a standard bone awl and makes vertebral fixation potentially safer and more efficient for physicians in the operating room.
Waypoint Orthopedics president and CEO Jeffrey O'Donnell said: "The Waypoint Orthopedics team has worked tirelessly over the last 18 months to develop and test the Waypoint GPS, in anticipation of this submission. I am incredibly proud of all the hard work.
"We are excited to work with the FDA in bringing this much-needed tool to the operating room, enhancing the surgeon's confidence during the cannulation of each pedicle, while potentially reducing the amount of ionising radiation during a case.
"We believe in surgeon-designed products and have had tremendous input and guidance from our world-class Surgeon Advisory Board throughout this process."
Our goal from day one has been to create an intelligent bone awl that required zero change to workflow, and we have been successful in doing so.
The Waypoint GPS enables another sense for the surgeon by allowing them to visualize the color of the bone they are cutting – it's an intuitive and reliable process for the surgeon. Shades of Red indicate cancellous tissue, while whites indicate cortex and the need to redirect prior to breach.
The unit is wireless and fully disposable, our COGS are low, and we intend to have this as a standard instrument that enables surgeons in ANY SITE OF SERVICE with added confidence and safety in their cases. It can reduce harmful ionizing radiation for everyone in the room and enables physicians to obtain far more information about their cannulations without adding anything to the workflow.
3- Customized Spinal Guides 
In recent years, customized spine guides for each patient have gained popularity. Several studies have demonstrated its advantages over free-hand pedicle screw insertion. However, with the current proliferation of browsers and robotics, their advantages are not clear.
Are they useful?
Recently, the University of Groningen did a randomized controlled trial (The Accuracy of Patient-Specific Spinal Drill Guides Is Non-Inferior to Computer-Assisted Surgery: The Results of a Split-Spine Randomized Controlled Trial) using guidewires and navigated surgery randomly assigned to the left or right sides of the spine in patients undergoing fixation surgery. The 3D-measured precision of screw insertion was the main outcome parameter of the study. The superiority of surgery with navigation over guidewires could not be demonstrated.
Which are the market leaders?
1.- Medacta: Established in 1999 in Switzerland, Medacta is an international company specializing in the design, production, and distribution of innovative orthopedic products, as well as in the development of accompanying surgical techniques.
They launched the MySpine concept almost Ten years ago.
MySpine is a patient-specific pedicle screw placement guide that allows the surgeon to determine their preoperative planning in 3D, based on CT images of the patient's spine. https://www.medacta.com/EN/home-myspine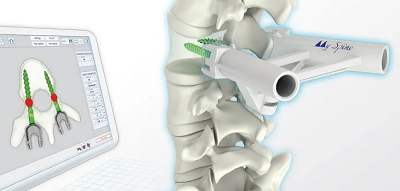 2.- Mighty Oak Medical is a Denver-based product development and commercialization company. It features medical device technologies focused mainly on spine.
Their most important product is the FIREFLY® Pedicle Screw Navigation Guides than can be used with any Spinal Deformity Correction system.
FIREFLY® is a unique patient-specific 3D printed bone model and drill guide with the following benefits:
99.7% screw placement accuracy
Preoperative concierge surgical planning drives intraoperative efficiency
Minimal intraoperative radiation
Simplifies S2AI approach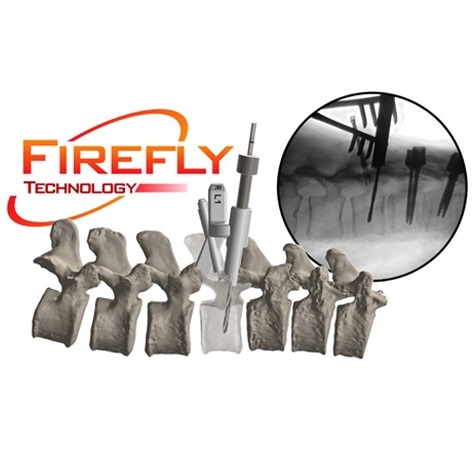 Are there any other options?
Recently, several companies have appeared in different countries that offer this type of good quality products.
1.-Anatomics
Anatomics is a medical technology company with high-quality medical devices, prosthetics, and software solutions since 1995. Based in Melbourne (Australia), Anatomics manufactures high-quality patient-specific implants for global distribution and in-licenses novel technology for Australian and New Zealand distribution. https://www.anatomics.com
Anatomics SpineGuide™ are patient-specific surgical tools designed for spinal surgery to assist with the accurate positioning of screws. Screw vectors are pre-planned by Anatomics with the surgeon using remote C3D collaboration and patient CT data for one or more spinal levels. Each SpineGuide™ is then designed around the approved screw vectors and 3D printed in biocompatible nylon. The devices are bone matched to contact points on the spine to guide the positioning of the fixation screws.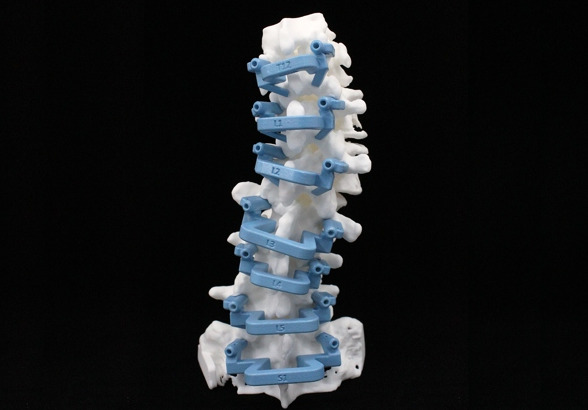 2.- SurgiNovi
Since its foundation in 2017(Cardiff, Wales, UK), SurgiNovi has focussed on designing, developing, and digitally manufacturing Patient-Specific Instruments (PSI). In Spine they are focused on pedicle screw fixation guides:
The SurgiSpond PST is a paired pedicle screw fixation guide used for Spondylosis correction. The design and positioning of the SurgiSpond PST rely on the accurate measurements taken of the spinous and transverse processes and the articular surfaces of each vertebra requiring pedicle screws. Surgeons can select the appropriate number of PSTs required in surgery during preoperative planning.
The SurgiScol Spine PST is a paired pedicle screw fixation guide used for Scoliosis correction that consists of a set of twelve guides covering the length of the spinal column from T1 to T12. The guides are uniquely designed for the thoracic vertebrae with each part using two transverse ribs to help align and secure the central body of the guide over the spinous process, the transverse processes, and the articular surface.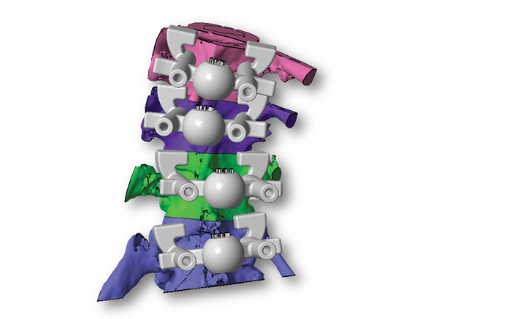 Please for more information about SurgiNovi visit: https://www.surginovi.co.uk
3.-Digital Anatomics
DIGITAL ANATOMICS is a biomedical engineering company. Its know-how includes mechanical engineering, software development, and 3D printing. We are bringing engineering resources to healthcare education and practice to improve professionals´ performance and so improve people´s well-being all over the world.
TOR JIG ® are their personalized surgical guides for pedicle screws placement:
Their software TOR JIG PLANNING ® is used by the surgeon to prescribe the placement of the pedicle screws. This is the basis for designing and 3D printing both spine bio models and personalized surgical guides.

---
4 -Precise-Hirondelle Medical
Hirondelle Medical was born out of a strong need for precision in the placement of pedicle screws, particularly in complex upper thoracic scoliosis procedures.The team of surgeons at the Clinique du Parc in Castelnau-Le-Lez, identified a real problem with conventional techniques and the lack of precision during surgery, which failed to meet the team's needs and expectations.https://hirondelle-medical.com
Hirondelle Medical has developed a unique platform bringing a new and simplified technique to osteoarticular interventional procedures. Precise – Interventional Access Guide for interventional radiologists – has obtained its medical CE mark since May 2021. Bringing the precision of medical imaging to orthopaedic surgery without needing robotics or navigation devices, our technology is the first of its kind to allow precise positioning and guidance for surgeons to position pedicle screws for complex spinal surgeries (deformity procedures).
Adding key value for complex procedures, providing precision for implant positioning, improved workflow, and extending capabilities and range of procedures that cannot be performed today with robotic solutions. We at Hirondelle Medical are focused on developing the next generation of safer, cost-efficient, and an alternative to existing robotic / navigation systems to simplify and improve orthopaedic interventions while improving clinical outcomes for patients around the world.
In order to achieve optimal precision during pedicle screw placement, the procedure is divided into two distinct parts. This two-phase surgical technique combines the expertise of interventional radiologists and surgeons to offer patients maximum know-how and precision.
First, the interventional radiology team positions the pins inside the pedicles, using a scanner for optimal precision guidance.
Once the pins are placed, the patient is ready to be transferred to the operating theatre. Surgeons can then use these pins as physical markers to place pedicle screws with confidence, safety and the utmost precision.
Our PRECISE solution and its innovative technique allow us to reach over 99% well placed screws, without the use of an additional navigation system in the operational theatre.
---
5 – RJB Surgical Navigation (Ruthless Spine)
Formed in 2018 by renowned surgeon Shane Pak M.D. Motto: "Making Distributors Great Again ™"​ Mission Statement: No Strugglers ™ We do not make implants or will pretend too. We DO make Spine Surgery easier for all, hence our mission, No Strugglers.http://www.ruthlessspine.com
RJB Surgical Navigation in available only in NON-FDA countries.
Effective Surgical Navigation in five simple steps:
STEP 1: Preoperative templating with MRI
STEP 2: Rotate table to vertical position
STEP 3: Activate RJB
STEP 4: Use starting point of screw
STEP 5: Dispose of RJB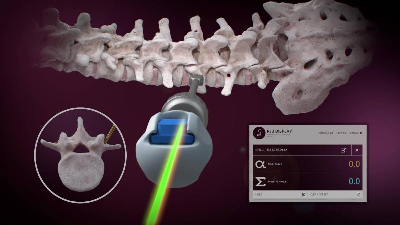 All the information included in this article is for educational purposes only! It is not intended to infringe copyright. All documents and Images are of the exclusive property of the manufacturing companies. (Article Image belongs to Digital Anatomics)