Smith & Nephew acquires Brainlab's orthopaedic joint reconstruction business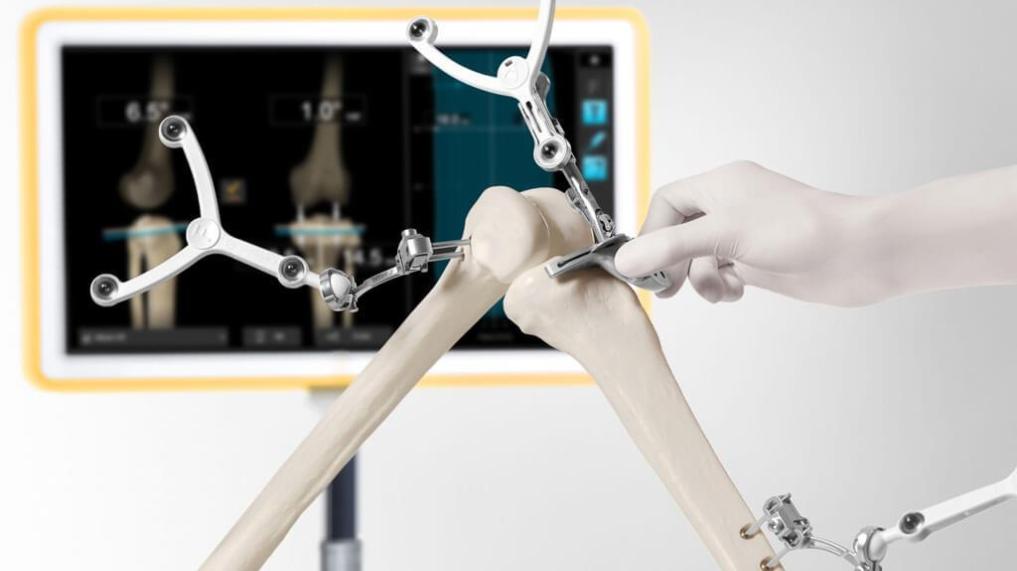 Smith & Nephew acquires Brainlab assets, teases next-gen robotic surgical platform (MassDevice)
Smith & Nephew (NYSE:SNN) said yesterday that it acquired Brainlab's orthopedic joint reconstruction business and teased the unveiling of a next-generation surgical robotics platform for later this year.
The London-based company said that its acquisition of Brainlab's orthopaedic joint reconstruction business included its associated salesforce, which it plans to fold into its surgical robotics division. It added that it will look to install Brainlab's hip software onto its currently-in-development Navio 7.0 handheld surgical system, which it plans to release during the second half of this year.
Along with the acquisition, Smith & Nephew said that it inked a collaborative development deal with Brainlab to develop additional applications for its advanced automation platform.
"The near term commercial opportunities with the innovation of our robotics platform and the integration of the Brainlab hip software are very compelling. Not to mention, the strong collaboration on design and development of next generation technology that will bring our customers more differentiated advanced surgical capabilities. We're excited to work together with Brainlab to bring the future of the digitally integrated O.R. to life and into the hands of surgeons world-wide," prez Skip Kiil said in a prepared statement.
In the same release, the company said that it expects to complete development of its next-generation surgical robotics platform some time later this year, with a full commercial release in 2020. It teased that the new platform will have a dramatically reduced footprint and be able to be incorporated into the company's sports medicine tower, and that the system will be faster than its still-in-development Navio 7.0.
Smith & Nephew added that its research & development program is looking to add augmented reality, stand-alone robotic arms and machine learning to the platform, and that it plans to open a new R&D and education center focused on robotics in Pittsburgh.
"Smith & Nephew is making a long-term commitment to bring together advanced technologies in robotics, digital surgery, and machine learning as well as augmented reality to empower surgeons and improve clinical outcomes. Over time these digital surgery and robotic assets will be deployed across all surgical specialities and healthcare settings where Smith & Nephew's operates, starting with orthopaedic reconstruction and sports medicine," CEO Namal Nawana said in a press release.
Yesterday, Smith & Nephew said that it agreed to put $660 million on the table to acquire Osiris Therapeutics (NSDQ:OSIR) and its regenerative medicine portfolio.
Smith & Nephew Acquires Brainlab Orthopaedic Joint Reconstruction Business (press release)
The two companies enter into a strategic collaboration for future development of technology for digital surgery across a broad range of clinical areas
Brainlab, the global pioneer of software-driven medical technology, and Smith & Nephew (LSE: SN, NYSE: SNN), the global medical technology business, announce that Smith & Nephew has agreed to acquire the Brainlab orthopaedic joint reconstruction business.
The acquisition supports Smith & Nephew's strategy to invest in best in class technologies that further its multi-asset digital surgery and robotic ecosystem. The acquisition and strategic collaboration allow both companies to accelerate research and development in the areas of digital surgery and augmented reality.
The Brainlab orthopaedic joint reconstruction business provides surgeons with digital workflow tools, from pre-operative planning to intraoperative navigation to postoperative evaluation and sharing. Used in over 40,000 orthopaedic cases1 each year at more than 500 accounts worldwide, the technology helps maximise precision and reproducibility and achieve desired outcomes for patients and surgeons. The transaction also includes certain intangible assets as well as the orthopaedic Brainlab salesforce, which will be integrated into the Smith & Nephew robotics commercial organisation, supporting the acceleration of this business.
Smith & Nephew and Brainlab will collaborate in developing applications in orthopaedic reconstruction and sports medicine, with opportunities to expand into other surgical specialties thereafter. The partnership offers Smith & Nephew access to a broad range of Brainlab technologies in cloud computing, tracking, augmented reality, robotics, AI, machine learning, image fusion, and anatomical segmentation. The combined competencies will result in a powerful digital ecosystem from which ground-breaking clinical solutions can emerge, bolstering Smith & Nephew's technology base for robotics. Brainlab will benefit from deploying its digital surgery products to the ambulatory surgery market through the broad Smith & Nephew distribution network. By working together, the companies will provide an exciting upgrade path with more capabilities for both Brainlab and Smith & Nephew customers.
"Computer-assisted surgery is the foundation of any powerful robotic solution and sophisticated software will drive superior robotic applications," said Stefan Vilsmeier, President and CEO, Brainlab. "I'm excited about co-inventing the future of digital surgery with our new partner, and expanding the reach of our technology to ambulatory surgery centers and their patients."
"This partnership with Brainlab is a critical driver of our digital surgery and robotic ecosystem," said Namal Nawana, CEO of Smith & Nephew. "Together we will drive the development and adoption of digital technologies to dramatically improve efficiency and outcomes in the OR."
About Brainlab

Brainlab, headquartered in Munich, develops, manufactures and markets software-driven medical technology, enabling access to advanced, less invasive patient treatments.
Core products center on information-guided surgery, radiosurgery, precision radiation therapy, digital operating room integration, and information and knowledge exchange. Brainlab technology powers treatments in radiosurgery and radiotherapy as well as numerous surgical fields including neurosurgery, orthopaedic, ENT, CMF, spine and trauma.
Privately held since its formation in Munich, Germany in 1989, Brainlab has more than 12,850 systems installed in over 100 countries. Brainlab employs almost 1,400 people in 18 offices worldwide, including more than 420 Research & Development engineers, who form a crucial part of the product development team.
About Smith & Nephew

Smith & Nephew is a portfolio medical technology business with leadership positions in Orthopaedics, Advanced Wound Management and Sports Medicine. Smith & Nephew has more than 16,000 employees and a presence in more than 100 countries. Annual sales in 2018 were $4.9 billion. Smith & Nephew is a member of the FTSE100 (LSE:SN, NYSE:SNN). For more information about Smith & Nephew, please visit our corporate website www.smith-nephew.com and follow us on Twitter, LinkedIn or Facebook.